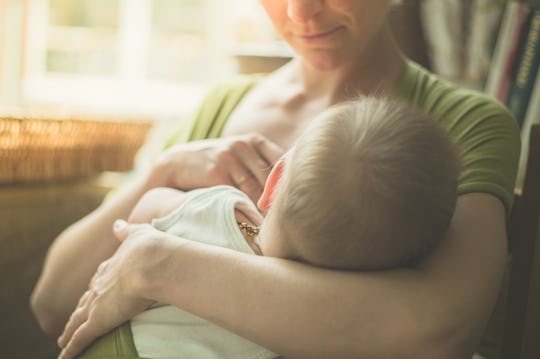 LoloStock/Fotolia
8 Things New Moms Want Pregnant Women To Know About Breastfeeding Guilt
I always planned to breastfeed. I took classes, bought nursing bras and nipple cream, read breastfeeding books, and told the nurses at the hospital to refrain from even mentioning formula. Nobody told me how hard it would be, though, or that I might not be able to breastfeed. So when things didn't go as planned I felt so much guilt. That guilt was intense, overwhelming, and made me feel like dying. I was eventually able to get past the culpability (for the most part), but I want pregnant women to know about breastfeeding guilt before they start nursing. I don't want them to feel alone, scared, or ashamed, because now I know you don't have to feel any of those things in order to "prove" you're a "good mom."
The overwhelming pressure to breastfeed, and the palpable disgrace I was made to feel when I couldn't, had me refusing to supplement with formula, even when my baby got really sick. I wanted the best for her and, well, "breast is best," right? When she had to be admitted to the NICU for dehydration, jaundice, and weight-loss, I felt guilty about that, too. I felt guilty for sleeping when I could have been pumping, so I fed her and pumped every two hours around the clock. I took every supplement and ate every food reputed to increase breast milk supply, even when I couldn't afford them, because I had to.
The truth is, not everyone can breastfeed, and even if you can breastfeed you might not be able to breastfeed exclusively and things might not be as picture perfect as they are in your mind. That's OK. When things get hard (and they will), or if breastfeeding doesn't end up being healthy for you or your baby, it's OK to supplement or to switch to formula and you shouldn't feel guilty about it. You don't even have to breastfeed at all, and your baby will be just fine. The most important part of feeding babies is not whether you choose breast or bottle, it's that you feed your babies, period.
Now that I have had three babies, I know that feeling guilty is an inevitable part of motherhood, and breastfeeding guilt is just the beginning. Pretty soon you'll feel guilty about working, screen time, feeding your kids french fries, swearing in front of your kids, and so many other things. Our culture is hard on new moms, and we are even harder on ourselves. It's about time we get over the guilt. Our babies need us to.