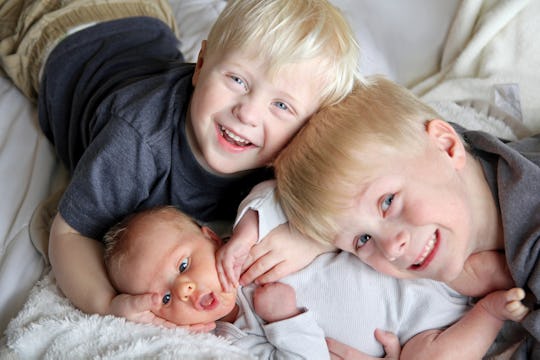 Christin Lola/Fotolia
8 Things *No One* Will Tell You About Your Third Baby, But I Will
Having my first baby was hard. Having my second baby was harder. But my third baby? Well, he's totally different. Then again, I'm a different mom, too. After having two babies I thought I knew what to expect with number three, but I didn't. You see, there are things no one will tell you about your third baby, including the undeniable fact that you totally can't predict how they will be. In the end, and always, they will surprise you.
So what was different? Well, my personal study only has a sample size of three, so your mileage may vary, but my baby is totally different than his siblings were as babies. To be honest, though, I'm not sure if my third baby is different because of where he fell in birth order or if he's simply different. I think it's at least partly my fault, too. I no longer have the time, energy, or money to only feed him homegrown, organic, veggie purees. And even if I did, I probably wouldn't, because I'm over being a crunchy mom. My third baby is a way better sleeper than his older brother and sister, too, which might have something to do with sleep training. Mt partner and I did that out of utter desperation.
In some ways he's more independent than his older siblings. In other ways, he is so much more attached to me. Again, our circumstances have changed. I have the "privilege" to work from home, which means I get to see him all day long and he gets to join me for conference calls. But it also means that he has never gone to daycare, and there's a 50/50 chance he will cry when I go to the bathroom.
My third baby is so different than I expected, and in so many unexpected ways. Your third baby will probably be different than his or her older siblings, too. But here's what no one will tell you about newborn number three: