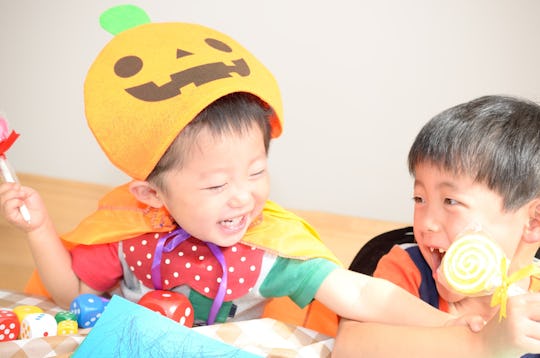 chihana/Fotolia
8 Things You're Not Allowed To Say About My Kid's Halloween Costume
I have fond memories of Halloween as a kid, and my favorite part was definitely the costumes. We were poor, so my mom sewed our costumes or we made them from things we found around the house or at thrift stores. While they weren't elaborate or expensive, our costumes were special to us and when I had kids I tried to carry on the same traditions. My kids choose what they want to be, and I make it happen. So I couldn't believe it when people had the audacity to say rude things about my kid's Halloween costume. I mean, who does that? They are kids, and Halloween is supposed to be fun.
It honestly seems like some people think that costumes should be a demonstration of wealth, conformity, or gender norms. So, when my daughter wanted to be a vampire/witch/faerie princess, and we made her a strange hybrid costume, no one seemed to get it and a few people let me know that they didn't approve of makeup on kids. She was 7, people, and it was freaking Halloween. Besides, her wearing makeup is totally OK with me, as long as she doesn't use mine. When my son wanted to wear a tutu and a cowboy hat for Halloween, I was cool with that, but not cool with people raising their eyebrows at a boy in a tutu. He was a 2-year-old toddler, you guys. Do we really need to put 2-year-olds in gendered costumes? The answer is no, we actually don't.
Then, last year, both of my sons wanted to be construction workers, so I got them matching costumes, even though I was a bit disappointed that I couldn't convince our four kids to go as the Village People (maybe this year?). Our oldest changed her mind the day before Halloween and went as a "zombie," which meant that she wore her regular clothes and just added a little bit of makeup. I, of course, was happy with any option that made her feel comfortable, because being a tween girl is hard enough.
My kids wear what they want 365 days a year, as long as whatever they're wearing is weather appropriate. You might not understand their creative spirit or approve of what they're wearing, and that's OK as long as you keep your mouth shut. Because, honestly, it's none of your business, and it's not about you. So, please, just let my kids have fun and refrain from saying the following things about their homemade, one-of-a-kind Halloween costumes: