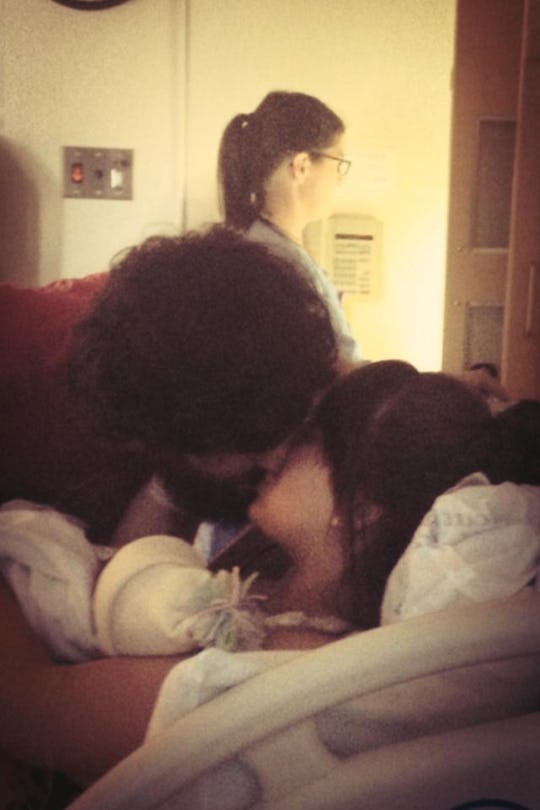 Courtesy of Danielle Campoamor
Promises I Made My Partner When I Became A Mom
I'm honestly not one to make a slew of promises. I mean, my partner and I have been together for almost four years, and I can't even bring myself to promise to marry him. Making sweeping declarations is trouble, in my opinion, as promises are pretty damn easy to break. Still, there were promises I made to my partner the moment I became a mom, knowing our lives had changed and, as a result, so would our relationship. Those promises (for the most part because, hey, I'm not perfect) have stuck, and have turned into the foundation of our parenting relationship. So OK, fine. Sometimes making a promise or two isn't all that bad.
The pregnancy that ended with my son entering the world was a very, very unplanned one. My partner and I had only been dating for around six months which, in my opinion, isn't a very long time. Still, there was something deep inside the pit of my stomach that told me he was it, and that I wanted and could successfully have a happy and healthy family with this incredible man. That pit never tells a lie, mind you, so here I am: four years and a now-2-year-old toddler later, still in love with the guy who ordered me a whiskey coke at a bar in Seattle.
Of course, that doesn't mean maintaining a happy and healthy relationship is easy. It's hard as hell, especially when you're responsible for another mini-human, too. Which is why, whenever my partner and I get in arguments or disagree or just feel defeated by parenthood in general, we revisit the promises we made to one another the moment our son entered the world. They were promises I whispered to him that first night in the hospital, my newborn baby asleep right next to me. They were promises I meant with every fiber of my being, and continue to mean to this very day. They are the promises that have kept us afloat when we felt like sinking, and are the reason we are still as happy as we were the day we met.