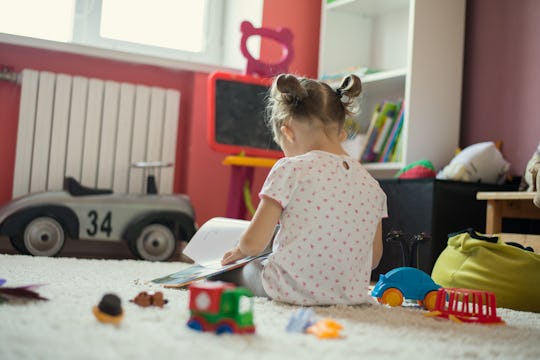 rasstock/Fotolia
9 Reasons Why I Won't Apologize For Letting My Toddler Play Alone
When my daughter was little, I had no idea what people actually did with their babies. Like, was I suppose to interact with her at all times? Let her be and explore by herself? After all, I was her main source of entertainment. In fact, I pretty much spent the first three years of her life sitting on the floor playing with her. I learned a lot about myself during those years, too, like the fact that I hate play time. Letting my toddler play alone is better for me... and for her.
I am not ashamed to admit that I hate playing with my kids. Building forts and block towers, and playing with Barbies and My Little Ponies, is not my idea of fun. It's especially not a good time with a toddler who has an attention span of a gnat. Pinterest projects are great in theory, but then you spend the entire time trying to get paint or clay out of their tiny adorable mouths and end up finishing the project by yourself because, yes, they're already onto the next activity. In a way it's good that toddlers lose interest quickly, though, because my tolerance for these activities is pretty low.
I spent three years following a tiny human around the house, park, or backyard. My daughter learned that she could depend on me, but she also learned to be dependent on me to entertain her. As a result, I could never catch a break. I would look forward to nap time or bed time like they were miniature vacations, and my entire days were more exhausting than enjoyable. Something had to give.
Eventually, I am happy to say, I learned that you don't have to entertain toddlers all day long. In fact, I actually think every parent is better off if they back off and teach their children to entertain themselves. So, now, while I occasionally engage in a game of peak-a-boo with my toddler or splash with him in the pool, for the most part I let him do his own thing while I watch from nearby. Here's why: