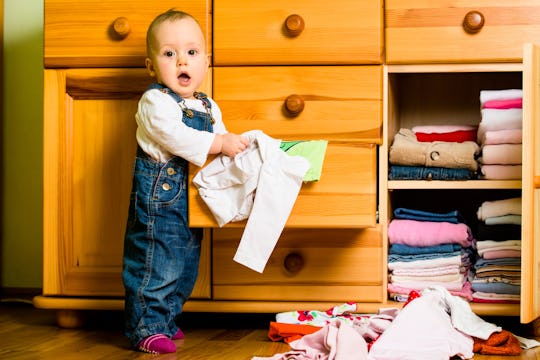 Fotolia
9 Things Lazy Moms Don't Worry About When It Comes To Their Kid's Clothes
I think I've pretty much established that I'm a "lazy mom," and that I'm totally OK owning that label. There are too many things in life to worry about as is, so I really try not to sweat the small stuff these days. With that in mind, I'm here to tell you there are things lazy moms don't worry about with their kids' clothes, for the exact same reason; life is too short to spend time stressing over how kids look, when all they really want to do is run around, play in the dirt, and make an extravagant mess that I'm definitely obligated to clean up.
Sometimes, I wonder what people think of my kids. I've taken my son to daycare wearing his favorite necklace, and my daughter's leggings are almost all above her ankles these days (thank the heavens it's summer). Then I look around at the other kids, and I can spot a few who obviously have self-proclaimed "lazy moms" too, and I stop worrying so much. Lazy moms know that a tiny hole in their kid's pants is par for the course, and that it's a waste to throw them out right away. Lazy moms certainly aren't going to throw away their kid's leggings because he or she slid around in the dirt with them, and now they just happen to a s lightly darker around the bum. Those are great for wearing to the park and, well, clothes are expensive.
Honestly, we already live in a society that wastes far too much of everything. Wearing hand-me-downs and slightly worn clothes, when you're a kid, is perfectly acceptable. It's not like they're going to fit into them six months from now anyway, right? At least, that's what this lazy mom thinks. Here are nine things lazy moms don't worry about when it comes to their kid's clothes, because I have other stuff to devote my worry to.