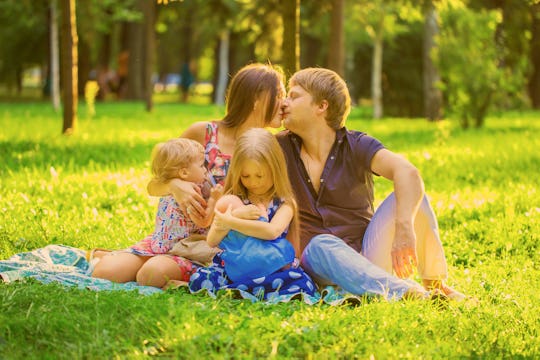 Fotolia
9 Things No Grown-Ass Dad Would Be Grossed Out By When His Partner Is Breastfeeding
It didn't take pregnancy for me to realize that there are some experiences my partner (a cisgender male) would never truly understand. Catcalling, for instance, is something he doesn't encounter. Having a period is another experience my partner doesn't know anything about. As a mom, pregnancy, labor, delivery and breastfeeding were all things he couldn't live through himself. Thankfully, that didn't stop him from being supportive or thinking those experiences were "weird." My partner knew there are things no grown-ass dad would ever be grossed out by when their partner is breastfeeding because, well, turns out he's a grown-ass dad.
I was thankful that I didn't have to endure certain situations that I know, sadly, so many women have to endure. A friend of mine's husband told her birth was "gross" and, as a result, didn't want to be part of the process. Another mom-friend told me that her partner didn't want her breastfeeding in public, because it was "gross" and he didn't want people to see what was "his." Ugh. The idea that a woman's body is some fictitious, non-human thing that doesn't have normal human functions is problematic at best, and degrading at worse. The notion that a woman's body is the property of a man's, or that a man should be "embarrassed" if someone else can see his partner's breasts doing the thing they're functionally made to do, is misogynistic and sexist and all types of wrong. Still, these thought processes remain because so little is truly known about woman's bodies. People, and men in particular, are continuing to believe that when a woman's body stops being sexual or stops being sexually pleasing, it's "gross."
My partner, being a grown-ass man (not to mention a feminist) doesn't adhere to these outdated ways of thinking, so when it came time for me to breastfeed my son, he didn't find any part of the experience to be "gross." That's my hope for every breastfeeding mother (besides great milk supply and clog-free milk ducts, of course): that she is supported by her parenting partner (or any other person who is assisting her in motherhood). Having someone constantly saying that breastfeeding is "gross," isn't helpful, it's hurtful. So, having said that, if there's a dad in your baby's life, here's hoping he realizes the following things are anything but "gross."