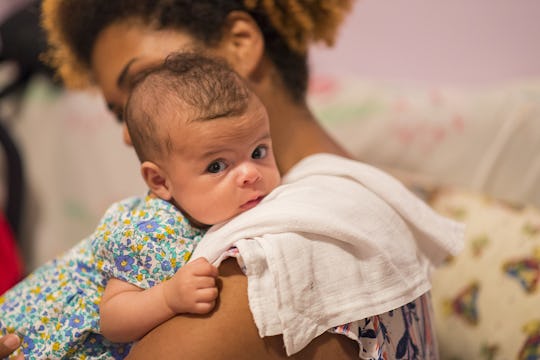 Teodor Lazarev/Fotolia
9 Things To Say To The Mom Who Feels Like She Doesn't Do Enough
If you follow me on social media, you probably think my life is pretty perfect. Yesterday, for example, I had a clean house, worked from home, snuggled with my teething toddler, made a Pinterest-worthy birthday cake, and cooked dinner for eight people. But while I may look like I "have it all," I'm barely hanging on. I feel less like a "supermom" and more like a mom who doesn't do enough. Ever.
As long as my kids are fed, happy, and wearing weather-appropriate clothing, I'm doing enough as a mom, right? Well, if that's the case I can tell you that it certainly doesn't feel that way. I know I don't spend enough "quality" time with my kids, my house is never perfect, I'm way behind on laundry, and so many of my DIY projects go unfinished or don't turn out the way I envisioned. I don't get enough exercise, weigh more than I did before I got pregnant with my youngest, and I know I will never fit into my pre-pregnancy jeans. And, honestly, there are days when my only accomplishment is snuggling with my youngest. I know there's so much more I could be doing. I know that maybe, if I tried just a little harder, I could do more.
I also know that, realistically, I can't sustain a faster pace for any extended period of time, and I already have a lot on my plate. But being realistic is hard when you're as tired as I am. What I guess I'm trying to say is that I'm in desperate need of a "you're enough" pep talk, before I completely burn out trying to do more than I really need to. Thankfully, I know there are more than a few things I would say to my BFF if she was having a similar crisis of confidence. So for me, and for all the other moms out there who feel like they aren't doing enough, here are some undeniable truths to remember when the going gets tough and we know it would be unhealthy for us to get tougher.