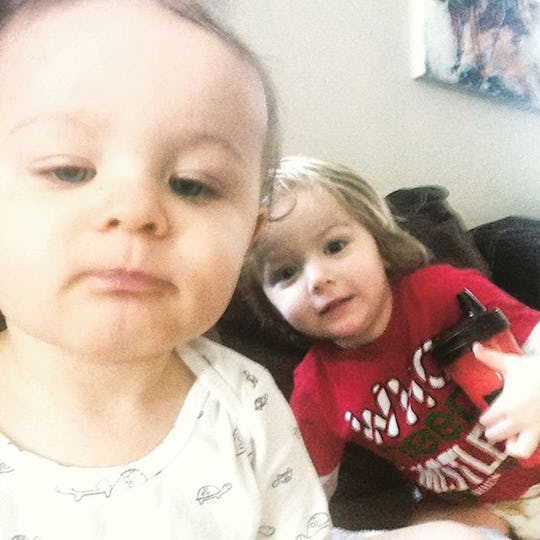 Courtesy of Hannah Westmoreland Murphy
9 Ways You're Pissing Off Moms With Two Kids Under 2 & Not Even Realizing It
When I found out that I was unexpectedly pregnant with my second child, and when my son was only seven months old, I was warned of the "impending doom" that would be having two children under the age of two. People legitimately terrified me with their tales of simultaneous tantrums and mountains of dirty diapers. Now that my oldest is about to be three, I've adjusted to having kids close in age, but for some reason, the people around me haven't. Maybe they don't realize the ways they're angering moms with two kids under two, but I'm here to tell you that what some assume is a horrific "side show" is my actual life, and if I can handle it, people should be able to handle being a bystander.
Having two children under the age of two is a struggle at times, sure, but doesn't every parent struggle at some point (or many points)? Answer: of course. We all feel like waving the white flag and succumbing to toddler tantrums at some point during our ventures as a mother. I have days when I don't want to be a parent anymore, sure, but that's not because of the minimal age gap in between my children. It's just because being a parent can be extremely difficult and exhaustion takes it toll and, you know, I'm human.
What I've yet to understand, though, is the reason why most react to the 15-month age difference between my children with dropped jaws, wide eyes, and prayer offerings. I'm fine, you guys. Seriously. If you're really concerned about a mother with kids close in age, offer your support, not your condolences. Furthermore, and perhaps most importantly, please don't do or say any of the following things because, trust me, they're definitely pissing off moms with two kids under the age of two.