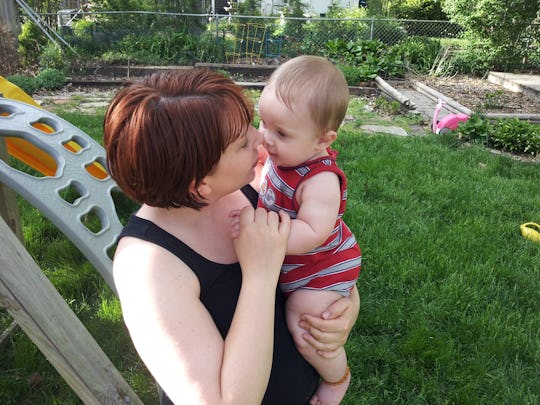 Courtesy of Steph Montgomery
9 Ways Your Baby Is Trying To Tell You They Want To Cuddle
Cuddling is my favorite part of postpartum life. Honestly, it might be the only part I like. I mean, while I was glad to finally be done being pregnant, those first few months of motherhood were brutal. Somehow, though, when I was exhausted and felt like I had no idea what I was doing, baby cuddles made it all seem worth it. Luckily, my babies loved to snuggle, and I learned that if you watch closely you'll notice the many ways your baby is trying to tell you it's cuddle time.
There's the first time they cry, which will break your heart but will send the distinct message that they need your warmth and comfort... like, right now. Then there's the way their tiny eyes light up when they are finally able to focus on you from across the room. The first time they babble something that sounds like "mama" will make your heart sing, and the way they seem to fit perfectly against your chest, and knead your body with their tiny hands, will relay their need for a warm hug.
Of course, there are other, less pleasant ways your baby will let you know that they want to be touched. For example, sometimes they will only sleep next to you or in your arms. If you put them down in their crib, their little eyes will pop open, as if to say, "Pick me up, mom. Now." It's exhausting, but honestly, I liked those moments, too. There's something magical about the quiet solitude of middle-of-the-night wake-ups or rocking my baby to sleep at nap time, just the two of us.
Pretty soon you'll find that you don't have to be a baby-whisperer to know when your baby wants to cuddle. They find ways to send that message loud and clear, including the following: