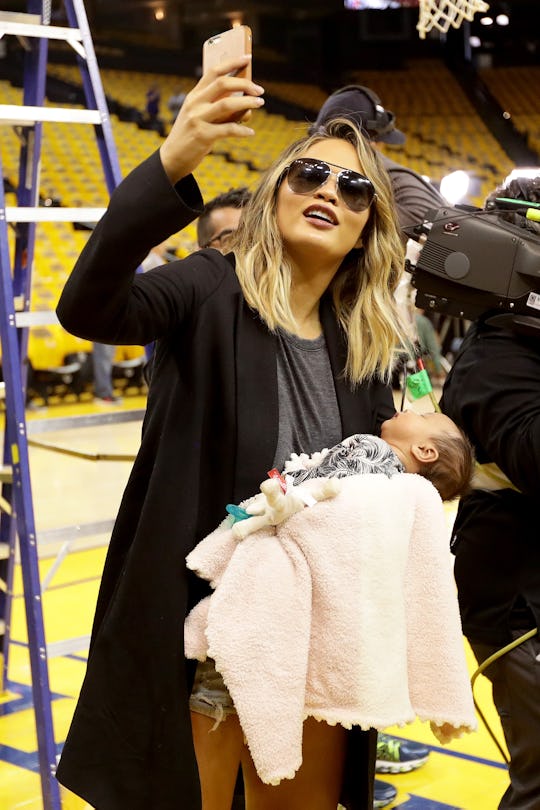 Ezra Shaw/Getty Images Entertainment/Getty Images
Chrissy Teigen's Most Hilarious Instagrams Show That Moms Definitely Still Have Fun
Chrissy Teigen seriously has it all going on. She's an incredibly successful model, having been featured in the Sports Illustrated Swimsuit Issue seven times. The 30-year-old is also pretty much everyone's food muse since her New York Times best-selling cookbook, Cravings, came out and changed lives earlier this year. Oh yeah, and Teigen is in the process of growing her adorable family. She and R&B artist John Legend welcomed their first child, daughter Luna Simone, in April. It all sounds like A LOT, as any new mom can attest to, but lucky for her fans, Teigen is certainly not shy about documenting her day-to-day on social media, so in addition to supplying her fans' daily dose of cuteness, Chrissy Teigen's most hilarious Instagrams show that moms definitely still have fun.
Teigen supporters all know that she is one of the realest moms and people out there, whether she's making public her struggle with infertility and decision to use IVF to conceive, chowing down on McDonald's Sausage McMuffins at her baby shower, or sharing photos of herself breastfeeding (because it's normal, dammit!). And while so many celebrities have hyper-controlled images, it's refreshing to see that Teigen is just being herself and doing her best — and that includes having lots of fun, and that means going out to dinner after giving birth, even if dumb internet haters try to shame her for it, and brunching with Kim Kardashian and Kanye West. And, like all moms should be, she's proud of her decisions and provides a treasure trove of Instas for followers to gush over.
Luna Jammin' Out
Teigen recently posted an insanely cute video of little Luna dancing to her dad's 2013 song "The Beginning", and it looks like, even at less than two months old, the baby may have some rhythm. I can just imagine Teigen at home with Luna, having a blast listening to her husband's music. It's even sweeter when you listen to the lyrics playing during the clip: "Plans to do it 'til we have a baby / Even if the world is crazy / Pick some names, boy or girl." Awwwwww.
And Things Get... Meaty
Even having a baby isn't going to keep Teigen away from some chops. "Last night in nyc! So happy to see our friend @chefcapon at @bowerymeatcompany, we missed you and your tomahawk chops!" she captioned this one. Um, excuse me, but go ahead and check out Chef Capon's mouthwatering Instagram, and thank me later.
She Knows Legend Is That Dad
Teigen and Legend look absolutely glamorous — and utterly down-to-earth — in this photo of the two on the street, with Legend wearing little baby Luna in a carrier. It's an undeniably sweet pic, but Teigen is never one to not have fun with a situation. "Get it, dilf!!" she captioned the photo, saying what everyone else was thinking, anyhow.
We Need To Talk
As we all know, Teigen is quite the food aficionado, and sometimes, a conversation about it is in order. "...we need to talk about this carrot cake," the caption reads in part, which, um, yes. Teigen, who clearly made this cake herself, then gave fans rather cryptic directions about how to find the recipe. "I know this is like the clues from davinci code," she writes, and it's easy to love her for it. (Also, I did some sleuthing for you and found the link to the recipe.)
Dog's Gotta Eat
The photo doesn't have a caption, but it did get more than 100,000 likes, and it's easy to see why. You've got a salivating pooch and an exquisite-looking salad, and it looks like Teigen must have really enjoyed setting up that shot. Unless she shared, it must have been a little less fun for the dog, though.
Face Swap is... Barf
Even beautiful celebrities can't resist the twisted allure of Face Swap. After the (disturbing) experience of virtually switching faces with her husband, a pregnant Teigen posted the video and the short promise "i am going to vomit." The person taking the video has other ideas, however. "You guys, maybe your daughter will look like that." Good news: Luna is here now, she she certainly doesn't look like that.
Dancing With Girlfriends
She's not quite a mom in this one yet, but Teigen shows she'll keep having a blast with her girlfriends, no matter what. Perched on a counter in this slo-mo video, Teigen and her pals, including Kourtney and Khloe Kardashian, get down at Teigen's baby shower, which Kim Kardashian threw for her.
Thank you, Teigen, for always keeping it real and showing us the fun side of motherhood, too. It's great to see that, when Teigen had a baby, she did not lose herself. Social media queen, keep the posts coming!