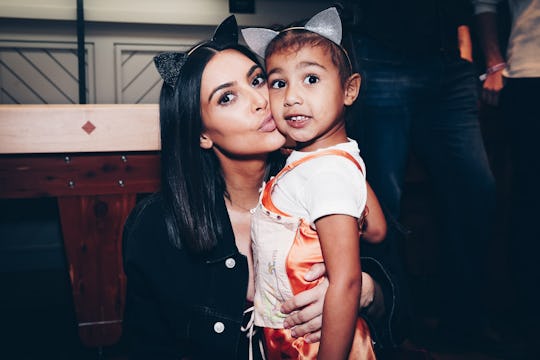 Handout/Getty Images Entertainment/Getty Images
Does Kim Kardashian Want A Boy Or A Girl For Her 3rd Child?
When news broke that Kim Kardashian's surrogate was already pregnant in late July, fans immediately began speculating about all sorts of things. Like would the surrogate live with the family? Did they know the gender? Or whether or not they should root for a certain one depending on if Kim Kardashian wanted a boy or a girl for her third baby? In many ways, it really doesn't matter what gender the baby is born for all sorts of reasons, and it's likely that Kardashian and her husband Kanye West are just hoping for a healthy, happy infant and surrogate after birth.
But since they already have one girl, North, and one boy, Saint, has the couple developed a preference? It's hard to tell. Mainly because during her last two pregnancies, Kim didn't focus too much on things like gender. Instead, when she spoke publicly about her pregnancies, it was often to get super real about how uncomfortable she was during those nine months due to the complication she experienced with both North and Saint.
It's no wonder that pregnancy wasn't a "perfect" experience for Kardashian (as it isn't for so many women) — she experienced placenta accreta, a life threatening condition during both. Which is why she and West decided to use a surrogate this time around, as it would be very dangerous for Kardashian to carry another baby.
So, although gender is an important thing for some parents to know about , it doesn't really seem to be the main event for Kardashian and West. Or, at least, the couple hasn't spoken publicly about their preferences. However, Kardashian grew up with four sisters and one brother, and one very strong mother. So she might be getting a girl whether she likes it or not if women run in the family.
The surrogate, whose identity is being kept private for her safety and security, is only three months pregnant, which means that it's way too early to know whether they should start stocking up on blue or pink blankets. Usually, parents learn the gender at the 16-20 week mark, so fans will likely know soon enough. (Though we're sure Kim would look into getting some killer gender neutral clothes for her woke babies anyway.)
Kardashian is lucky that she was able to overcome the dangers of another pregnancy with a surrogate. It's not an option for everyone, mainly due to the prohibitive costs of one. According to Us Weekly, the surrogate is a young woman from San Diego who has been a surrogate before and was chosen for the couple by an agency — for a price, of course.
Kardashian and West are paying a total of $45,000 in 10 monthly installments, in addition to the $68,850 deposit at the agency. If the woman becomes pregnant with twins (just like Bey!), it will be an extra $5,000 per child.
Since it's the Kardashian-West clan, it's likely that there might be some bonuses for the surrogate. Although it's not very common for the surrogate and intended family to have too much contact, unless it's mutually agreed upon, according to Circle Surrogacy.
Obviously, no matter what the gender of the baby is both parents (and the whole fam) will adore it. Having worked this hard for a healthy infant, who cares what the gender is anyway?