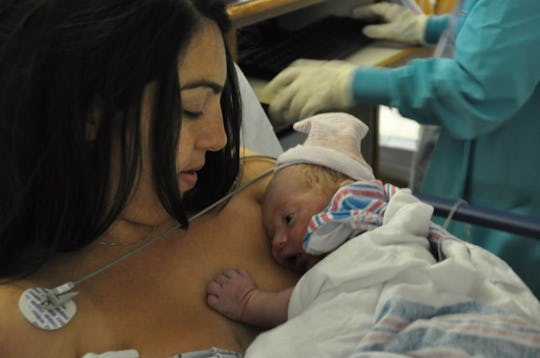 Photo courtesy of Jamie Kenney
10 Moms Share The Moment They *Finally* Felt Close To Their Babies
I feel like every time you see new motherhood depicted in the media, you always see an instant, beautiful, and immediate bond between mom and baby. Mom always has a beatific look on her face as she stretches out her arms to embrace a wailing infant, who calms down as soon as they touch. And it's not that I don't think that experience exists — I know it does — but I don't think that's the final word on the issue. After all, I didn't feel that instant bond with my first child. So I asked moms to share the moment they finally felt close to their babies and, as predicted, real life is more varied, nuanced, complex, and beautiful than mostly-male writers would have you believe.
As soon as my son was born I was flooded with emotion. He cried a pissed off-sounding cry and I sobbed in happiness. I loved him immediately... but I wasn't in love with him until much later. It's nothing personal, of course. I mean, I didn't know the little guy! My husband and I both talked about the fact that, when we left the hospital, we felt as though we were assigned a baby to take home. Like, if someone said at any point during my stay, "Oops! We accidentally gave you the wrong baby!" we'd have been like, "Oh wow! Good catch! Thanks!" and traded him for our "true" child. But it wasn't long after we got him home — a week, maybe less — that we felt a deep connection to him.
With our second it was sooner which, again, is nothing personal (and certainly shouldn't be taken as a sign of preference) but the bond we'd built with our son had expanded our hearts. We knew about all the chambers that were hidden from us the first time around, knew what was in store, and it was easier to project an already lived experience onto a new baby and realize how much she would be loved.
Parenthood is like any other relationship in some ways — it takes time to develop. Here's what other moms had to say about their experiences: