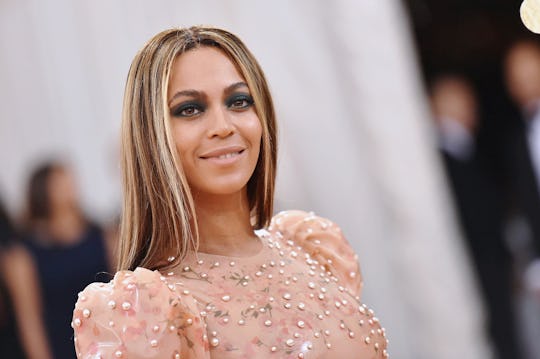 Mike Coppola/Getty Images Entertainment/Getty Images
How Will Beyonce Announce The Twins' Birth?
Rumor has it that they're here, they're home in their family's breathtaking rented Malibu mansion, and that they're a boy and a girl named Shawn and Bea after their megastar parents. But all that info about Beyoncé's twins is just that — glorified, unverified rumors — because she and husband Jay Z have not given any public indication that their empire has just expanded by two. And the seemingly endless suspense has kicked the Bey-watch into overdrive as the question of how Beyoncé will announce the twins' birth permeates the Beyhive. This is Beyoncé, after all, so fans are right to believe it's going to be epic — and probably beautifully unexpected, too.
The babies were reportedly born in Los Angeles on June 12 before spending some extra time in the hospital because they reportedly required treatment for jaundice. Being that Bey is notoriously private when it comes to her personal life, it's not shocking that she's focusing on mothering the two little humans she just brought into the world instead of posting photos of them on social media for all the world to go bananas over. But her mom, Tina Knowles, did share on Instagram Thursday that Beyoncé is about to make an "amazing new announcement" — so this could finally be it, everybody. But how, how, how will it go down? And when?
Of course, there's precedent when considering such a momentous reveal: the arrival of Bey and Jay's daughter, Blue Ivy, back in 2012. At the time, fans had to wait only two days before the couple released a brief official statement to E! News confirming their firstborn's "emotional and extremely peaceful" birth — and cluing the masses in on her name. Photos came a bit later, surfacing on Tumblr little more than a month after she first came into the world.
But times have a-changed since 2012, and the Tumblr page that once hosted the first-ever public Blue Ivy photos is now defunct. Instagram is all the rage in Bey's orbit now. That's where she first announced she was expecting twins with a highly stylized photo back in February, as well as where she documented the pregnancy in one glam shot after another. So, it's no surprise that Bey diehards are checking her Insta incessantly in desperate search of a hint of the baby Beys. That effort has proven fruitless so far, though, as Bey hasn't posted anything to the normally bustling account since May 30, about two weeks before the twins are believed to have been born.
Let's not forget that Bey is only one (shining, radiant, ethereal) half of the blessed Knowles-Carter union, and her partner in all this actually has a new project dropping tomorrow. Jay Z's 4:44 will begin streaming on Tidal alongside an accompanying visual component starring Oscar winners Mahershala Ali and Lupita Nyong'o. Listen, I know it's a long shot, and that this visual component — be it a visual album or a feature-length film or something else — has probably been finished forever, but is there a tiny change that the twins may have made the cut?
If not, it's my humble belief that Jay Z will at least reference those elusive newborns on the album.
Here's hoping.