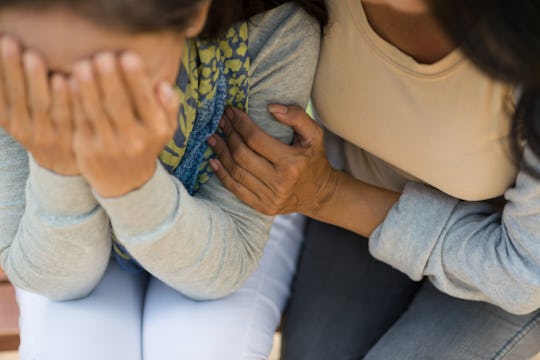 If Only I Had Said These 8 Things When My Friend Had Postpartum Depression
My best friend was the first among our cohorts to have a baby so, sadly, she was also the first to suffer through postpartum depression (PPD). We didn't know she had PPD at the time, mostly because the majority of us didn't know it was a thing. For all we knew postpartum life was filled with nothing but joy, so anything sad or confusing that followed childbirth was just some weird fluke. Looking back, knowing what I know now, there are so many things I wish I had said when my friend had postpartum depression — especially since she suffered through it mostly alone and without any tools with which to cope.
My friend and I were talking about this time in our lives recently, and we both marveled at how naive we were about PPD back then. How did we not even recognize the signs? Did neither of us notice the complete change in her demeanor? How did her husband not know? Why didn't she tell me she was crying every day? Why didn't I ask how she was feeling and just assume that "babies make everything better"?
A few years later, when I suffered from PPD, my friend started to recognize what was happening to me, as the red flags were becoming eerily similar to what she had felt after she had had her own baby. She told me that when she was postpartum, she had thought this was "just the way things were supposed to be" when a woman became a mother. But when my doctor sounded the alarm that this most certainly was not "normal," she realized the entire six months she had spent agony weren't par for the parenting course, either. It was a wake-up call, for both of us. That was when she realized that she had had PPD back then, too. She just hadn't known what to call it, except "being a new mom who is all alone."
Luckily, her PPD went away on its own (mine required more medical intervention). But I wish I could go back in time and be a better friend to my new-mom BFF. She assures me it is all good now, but I'll always feel sad about how I let her down. If I could do things differently, this is what I would have said to her back then: