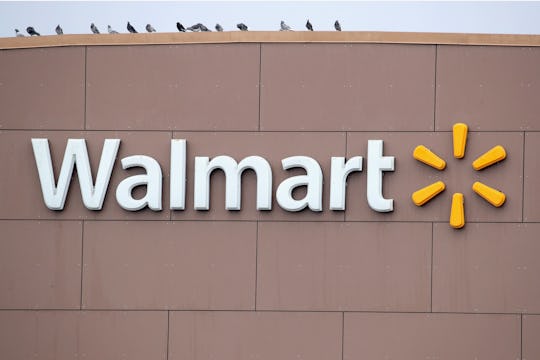 Scott Olson/Getty Images News/Getty Images
Is Walmart Open On Christmas 2018? Santa Better Not Forget Anything
Being Santa must be pretty stressful. The man's job performance totally depends on one day of the year; he has to stay awake all night and get to every kid in the world while being totally exposed to the winter elements on his sleigh; and he and his elves are supposed to make every gift themselves (though the elves probably do most of the work). Plus, Santa can't run to the closest store for any forgotten gifts like you do every year — though you might want to check Walmart's Christmas hours before you leave your shopping to Christmas day.
Obviously you don't have it as rough as Santa does, but you will have to plan your Christmas shopping a little more in advance than your birthday or the anniversary-you-always--think-is-a-week-later-than-it-actually-is shopping, because Walmart won't be open on Christmas this year. Indeed, although the store was open on Thanksgiving and is open pretty much every other day of the year, all of the superstore's locations will be closed on Christmas day — as confirmed by a Walmart representative. So don't try to pop in for a last-minute gift or a forgotten dessert on St. Nick's busiest day of the year, because you'll be met by closed doors and unhappy kids waiting at home. Stores will reopen at normal times on December 26. It's a bummer for you that you'll have to go a full day without Walmart, but rejoice in the fact that Walmart employees won't be working overtime on Christmas like Santa's elves.
Plus, you don't need to totally despair for yourself yet, as Walmart will be open on Christmas Eve. That means you can leave at least some shopping until right before the day you use more gift wrap than you even thought existed in the entire world. However, all stores will close at 6 p.m. (as confirmed by a Walmart rep), so make sure you get your gift-related errands done during the day. You don't want to arrive for the final present dash too late.
By the way, I wouldn't try leaving your grocery shopping to Christmas day either. It might seem like a good idea — you'll miss the crowds, you'll know exactly what you'll need to make because dinner will just be a few hours away instead of days, and you can take a break from that damn Baby Shark song your kid's favorite gift won't stop singing — but the plan will def backfire. Most grocery chains, like ALDI, Trader Joes, Kroger, and Whole Foods, will also be closed for Christmas, so you'll have to remember to buy Santa's cookies during your pre-holiday food run, which is really just a fight with other shoppers over who can get the last pack of Tollhouse cookie dough.
Will you make it one day without access to a grocery or convenience store? It'll be tough, but I have faith in you. Just channel Santa and get that list of presents and food going early (like, now, probably), and if you do forget a present or two, take comfort in the fact that your parenting skills aren't entirely dependent on Christmas. You're already way better off than Santa.
This first-time mom wants to have a home birth, but is she ready? Watch how a doula supports a military mom who's determined to have a home birth in Episode One of Romper's Doula Diaries, Season Two, below. Visit Bustle Digital Group's YouTube page for the next three episodes, launching Mondays in December.