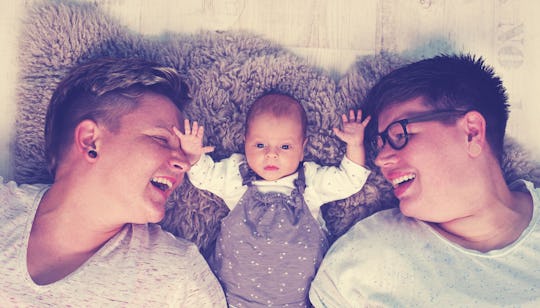 Jenny Sturm/Fotolia
10 Things You Should Ask Your Partner Before Your Baby Turns 1
My children are 6 and almost 4, but their first years feel so much longer, comparatively, to the ones that followed. It's sort of like high school, when four years felt like an eternity but the 10 years leading up to your reunion felt like four months. Your formative years loom large, as do your formative parenting years. Some days you're going to be so preoccupied with your baby you'll forget you have a partner entirely. But they are your co-pilot, and there are some things you should ask you your partner before your baby turns 1.
Here's the goal for your child's first year: everyone survives. That alone is noteworthy (and, I'm guessing, why first birthdays are such a big bash for some people). If everyone survives, congratulations, you've done well. Next goal: everyone survives in one piece, physically and emotionally. That's wonderful. Next goal: everyone survives in one piece and enjoys the experience. That is extraordinary and not necessarily impossible, but it takes intention and effort.
One way to exert this effort is through a series of questions to promote ongoing conversations with your partner. You may not always remember to ask, and you may not always be up for a particularly profound discussion (particularly not after three hours of broken sleep while you're covered in spit up with a baby improperly latched onto your boob), but I think it's important to keep asking these questions, because they will allow you to be on the same page with your partner (or at least let them know where you're at).