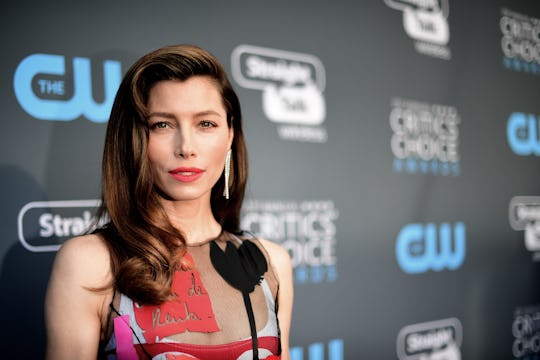 Matt Winkelmeyer/Getty Images Entertainment/Getty Images
Jessica Biel Got Honest About How She Struggles With "Mom Guilt" While She's Working
Finding time to focus on both your career and being a good mother can definitely be a challenge. This balancing act often causes feelings of "mom guilt," and it's something that many working mothers deal with — celebrity moms included. For example, Jessica Biel recently opened up about struggling with mom guilt while balancing her career as an actress with her 3-year-old son, and other working parents will definitely relate.
Biel and husband Justin Timberlake welcomed their son Silas three years ago (and they actually confirmed the news of his birth to People three years ago to the day). Biel has been pretty vocal about life as a mom since Silas was born: she keeps fans updated on Instagram, she has discussed educating her son about sex from an early age, she's talked about her birth plan and how it all fell to pieces, and, on more than one occasion, she has opened up about mom guilt. She did so most recently in an interview with Redbook at the The American Express Experience event in New York City earlier this week.
"Mom guilt is a real thing," Biel told the magazine on Monday. "I don't know if I'm very good at it yet. I feel a lot of guilt when I'm gone. You feel like you're missing out and maybe you shouldn't be there. I struggle with it a lot."
That being said, Biel has no regrets about continuing to work while being a parent. In fact, she hopes that her career will inspire her son. She told Redbook:
It's important for my son to see me as a human being very fulfilled by my work, because it's very much a part of me ... I think that that'll be very beneficial to [Silas] and his life when he's older — that I didn't just give my whole life to him. I maintained my own life as well, and that's important. That's going to make me a happier person and a better mom.
This is not the first time Biel has commented on mom guilt. In April 2016, when Silas was about 1 year old, Us Weekly asked Biel if she ever feels mom guilt. The actress responded:
Oh, you mean like a minute ago!? And about 10 seconds ago. And just now! ... I feel it all the time. It's hard to find that balance, you know, between working and feeling like an independent person and like a woman again.
The fact that there is such thing as mom guilt but not "dad guilt" is certainly a double standard. Celebrity dads are never asked if they feel guilty for choosing work over being a stay-at-home parent, so celebrity moms shouldn't be either. No parent should have to feel guilty for choosing a career over spending every waking moment with their child. That being said, it's still totally normal and understandable for a parent of any gender to feel guilty for not spending as much time as their child as they wish they could.
In addition to Biel, several other celebrity moms have opened up about feeling mom guilt, from The Hills star Whitney Port to actress Eva Mendes. Anne Hathaway has commented on the matter as well — and she thinks mom guilt is utter nonsense. In a March 2017 interview with Elle, she said:
When [my son] Johnny was a week old and I was holding him and I was in the ninth level of ecstasy, I just all of a sudden thought, "Mommy guilt is invented nonsense." We're encouraged to judge each other, but we should be turning our focus to the people and institutions who should be supporting us and currently aren't.
It's clear that Jessica Biel is an amazing mom to her son, and she's setting an awesome example by continuing to follow her passion while raising him.
Check out Romper's new video series, Bearing The Motherload, where disagreeing parents from different sides of an issue sit down with a mediator and talk about how to support (and not judge) each other's parenting perspectives. New episodes air Mondays on Facebook.