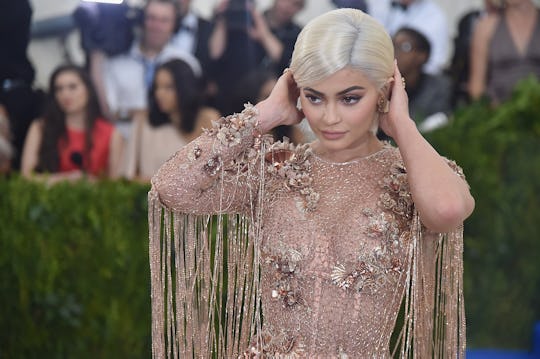 Theo Wargo/Getty Images Entertainment/Getty Images
A Family Friend *May* Have Confirmed Kylie Jenner's Pregnancy Rumors
With three — three! — new babies reportedly due to be born into the Kardashian-Jenner dynasty early next year, fans of America's favorite reality TV empire are desperate for more info. And while vague tidbits attributed to unnamed "sources" are a dime a dozen in gossip mags, Kardashian watchers really sit up and listen when someone close to the family publicly drops some knowledge. So, enter family matriarch and momager Kris Jenner's longtime friend Kyle Richards, whose reaction to Kylie Jenner's pregnancy rumors just may have confirmed that they're real after all. That's still a big if, though, because neither Jenner nor her older sister, Khloé Kardashian, have officially confirmed the fevered media reports that they're expecting.
In fact, Kim Kardashian West is only expecting mom in the rumored Kardashian-Jenner trifecta to have confirmed the reports, sharing in a teaser for Season 14 of Keeping Up with the Kardashians that she and husband Kanye West are getting ready to welcome their third child — although the clip didn't confirm rumors that the new baby will be born via surrogate. Twenty-year-old Jenner, on the other hand, confounded KUWTK obsessives when she didn't appear on the series premiere at all Sunday
Especially because of the intensified interest in the young mogul since news emerged that she is reportedly expecting a baby girl with her boyfriend, rapper Travis Scott, this was trés mysterious. Luckily, Us Weekly chatted with with Richards last week and gathered some valuable intel to satiate fans — for now.
Because, when a reporter runs into anyone with even a tangential relationship to the Kar-Jen clan, of course they're going to ask about the outrageously famous family. In this case, Us Weekly used its time with Richards — of Real Housewives of Beverly Hills fame — to get her take on Jenner's reported pregnancy. Her answer, given at the L.O.L. Surprise! party in Hollywood Friday, was telling, to say the least. According to Us Weekly, she said:
Luckily for Kylie, she's in a financial position where she can also take care of this child and she has an incredible support system with her family, so she's gonna be fine!
The actual content of Richards' response wasn't what was so revealing, however. After all, pretty much everyone knows that Jenner, who owns her own lucrative cosmetics company and is reportedly worth about $50 million, will have the financial means to give her kids the life of a king or a queen. And it goes without saying that the sprawling family is incredibly close-knit.
No, Richards' seemingly impromptu statement serves a greater purpose: It appears to be the first on-the-record acknowledgement from a person with a real connection to Jenner that she is could very well be getting ready to welcome her first child. (Romper has reached out to reps for both Jenner and Scott for confirmation of the pregnancy rumors, but has not heard back at this time.)
That being said, it's important to note that Richards' apparent "confirmation" is by no means the holy grail when it comes to knowing for 100 percent certain that the Jenner rumors are true. Richards even told Us Weekly herself that she hasn't spoken with Jenner's mom, Kris Jenner, about how she feels about the prospect of becoming a grandmother three more times over.
"You know, I haven't spoken to her about it!" Richards admitted to the magazine. "I'm sure she's excited about all of them, but she has not told me."
So, put in that context, it's not really a huge stretch to think that Richards may have been simply operating under the assumption that the reports about Jenner are true when she offered her assessment that the mogul is "gonna be fine." It's actually entirely possible that she doesn't have any inside information about Jenner's reported pregnancy, nor that of Khloé's reported pregnancy or Kim's rumored surrogate.
Even friends of the Kardashian-Jenner crew very well could be working with the same sketchy information that the rest of us are. And that means we all have to keep trying to keep up with the Kardashians to, one day soon, get the whole scoop.
Watch Romper's new video series, Romper's Doula Diaries:
Check out the entire Romper's Doula Diaries series and other videos on Facebook and the Bustle app across Apple TV, Roku, and Amazon Fire TV.