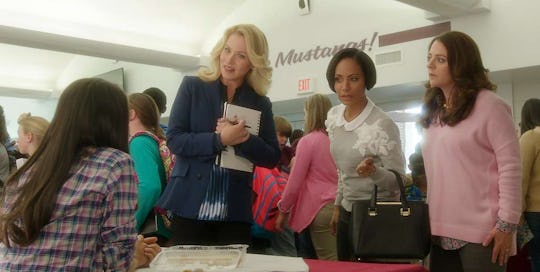 STX Entertainment
Real Talk: Being Socially Awkward Will Follow You Into Parenthood
When I was pregnant I knew a large portion of my future was going to be unpredictable, but I assumed I could count on at least a few things to be somewhat inevitable. For example, my boobs would never look exactly the same, my capabilities would expand to accommodate the demands of parenthood, and I would never again have to wonder what to talk about in social situations as long as all parties involved had kids. What I didn't anticipate, of course, was that being socially awkward follows you into parenthood, too.
I guess I shouldn't have been too surprised, but my initial assumption still holds up, logically, in my mind. After all, there are countless facets to parenthood, so if all adults in a social setting have parenthood in common, there should be no shortage of sh*t to talk about. Sure, when it came to professional networking events and friends' birthday parties where I barely knew anyone, I was still left to my own woefully questionable social devices, but for the most part, I already knew how to navigate those situations. I'm not actually that tragically socially awkward in most cases, if only because I'm usually around friends or friends of friends, and those are people I'm much more likely to vibe with. It was the social settings I would find myself in as a result of being a parent that gave me pause to panic.
I mean, outside of all of us parents happening to procreate within a reasonable distance of some pre-scheduled playgroup, what did we have in common? Probably nothing. And yet, there we were, forced to interact with one another on a regular basis with nothing but our kids as established common ground — and even then, talking about parenting too much with strangers is dangerous territory. Like, Jenny's mom seems perfectly smart and nice until she randomly drops that she's an anti-vaxxer.
All told, having kids in common with strangers has made me realize that social awkwardness, if it's affected by becoming a parent at all, only exacerbates it. Here's how: