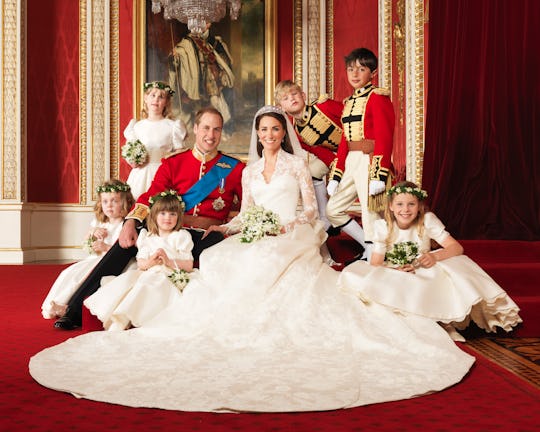 AFP/AFP/Getty Images
Head Into 2020 With A Look Back At These Royal Family Portraits From The Past Decade
Over the past 10 years, the royal family has celebrated numerous marriages, welcomed a few adorable new additions, and experienced many memorable moments. In fact, portraits of the royal family taken throughout the last decade capture all of that. From Kate Middleton and Prince William's royal nuptials to the christening of Meghan Markle and Prince Harry's son, there's a whole lot to reflect on and celebrate as this decade comes to a close.
For starters, Queen Elizabeth II became the longest-reigning monarch in British history in 2015 (she has currently served as Queen for 67 years). This decade has also given the Queen new successors to the royal throne, thanks to the birth of Prince William and Middleton's oldest son Prince George in 2013, Princess Charlotte in 2015, and Prince Louis in 2018. The royal family also welcomed a few new members who aren't directly in line for the throne, including Markle and her baby boy with Prince Harry, little Archie Harrison Mountbatten-Windsor, who was born earlier this year.
With so many exciting and memorable moments to come out of this past decade, it's hard to remember all of them. Thankfully, though, there are plenty of photos to help jog the ol' memory. You're welcome.