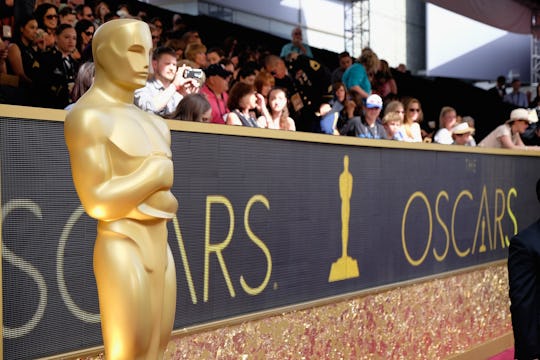 Frazer Harrison/Getty Images Entertainment/Getty Images
The 2017 Oscar Nom Snubs We Didn't See Coming
Everyone loves a great movie, but everyone doesn't love when their favorite actor gets snubbed for a well-deserved Oscar nomination. Following their announcement on Jan. 24, the 2017 Oscar nomination snubs will shock you.
Just two weeks after witnessing the snubs at the 2017 Golden Globes, many are hoping to see those films and actors get the recognition they deserve at the 89th Academy Awards on Feb. 26. Some notable snubs from the Golden Globes included Tom Hanks (Sully), Taraji P. Henson (Hidden Figures), and Martin Scorsese (Silence). Fans are hoping the 2017 Oscar nominations will correct these snubs.
But that's not the only thing people hoped for with the 2017 Oscar nominations. As oppose to past years, many hoped to see diversity in this year's nominations. Unlike the sequential whitewash of the 2015 and 2016 Oscar nominations, many in and out of the industry expect the 2017 Oscars should follow suit to its fellow award show Golden Globes' recognition of diversity in films, which resonated with audiences and the media.
Unfortunately, the Academy of Motion Picture Arts and Sciences is not perfect and well-deserving films and actors often get left off the ballot. Wondering who was overlooked this year, despite their deserving roles? Let's take a look at the 2017 Oscar nomination snubs that will leave you shocked.
Hugh Grant (Best Actor)
After receiving much praise and a Golden Globes nomination for his role as St. Clair Bayfield in Florence Foster Jenkins, many assumed Grant would take home an Oscar nomination on Tuesday morning. Sadly, for fans on Grant, he lost out to five other equally worthy men.
Taraji P. Henson (Best Actress)
After being robbed of a Golden Globe nomination for her portrayal of NASA mathematician Katherine G. Johnson in Hidden Figures, many assumed Henson would receive an Oscar nomination. Unfortunately, The Academy made the same mistake as The Hollywood Foreign Press. At least, Octavia Spencer got a nomination.
Tom Hanks (Best Actor)
Although Sully wasn't necessarily a box office smash, Hanks is a Hollywood treasure and gets nominated for his work more often than not. It's sad to see a Hanks-less nomination list, but there is always next year.
Amy Adams (Best Actress and Best Supporting Actress)
An award show staple, Adams had two opportunities to receive an Oscar nomination. One for her lead role in the sci-fi thriller Arrival (which earned her a 2017 Golden Globe nomination for Best Actress in a Drama) and one for her supporting role in the straight up thriller Nocturnal Animals. Sadly, neither of Adams' roles were deemed worthy by The Academy.
Ryan Reynolds (Best Actor)
OK, this one may have been a long shot. After all, action movies rarely get acknowledged by The Academy. But Reynolds work as the titular character in Deadpool earned much praise as well as a 2017 Golden Globe nominations, leading many to assume Reynolds would have been nominated for an Oscar. But hey, at least he finally redeemed himself for Green Lantern.
Annette Bening (Best Actress)
Having received a Golden Globe nomination for her work in 20th Century Women, many assumed Bening would receive an Oscar nomination for the eye-opening role. Unfortunately, Bening lost out to several newbies including Ruth Negga and Isabelle Huppert.
Simon Helberg (Supporting Actor)
Though not as shocking as Grant's snub, many were surprised to see Helberg left off the 2017 Oscar nomination list. His portrayal of pianist Cosme McMoon earned a lot of praise and helped the actor make a name for himself outside of The Big Bang Theory. But when you're up against award show staples, there's a good chance your name will be left off the list.
Janelle Monáe (Best Supporting Actress)
Like Adams, singer-turned-actress Monáe had two opportunities to see her name on the Oscar nomination list. The first for her portrayal of Mary Jackson, a female engineer who broke the mold, in Hidden Figures. And the second for her small, but powerful role as the mother figure Teresa in Moonlight. Both performances were worthy of a nomination, but neither we acknowledged.
Colin Farrell (Best Actor)
After taking a bit of a break form Hollywood, Farrell's role in the dystopian love story The Lobster put him back on the acting map. Though the role secured him a Golden Globe nomination, it wasn't enough to get him the Oscar nom.
Despite the snubs, many worthy actors and actresses snagged Oscar nominations this year. But who will actually take home the award? Tune in Sunday, Feb. 26 to find out.
Additional reporting by Leah Rocketto.