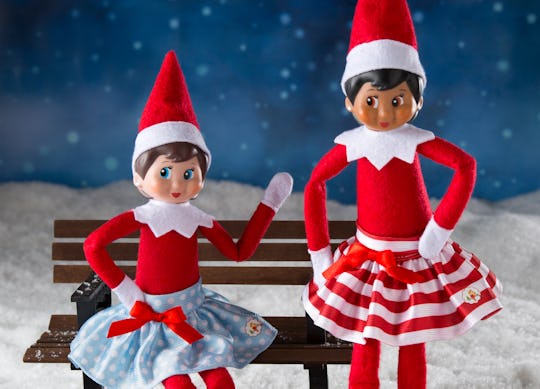 Courtesy of Elf on the Shelf
What Is The Meaning Behind Elf On The Shelf? Here Are The Founder's Words
Unless you've been living under a rock for the last several years, you've heard about the Elf on the Shelf and how he descends on households with children throughout the month of December. But did you know that the Elf actually originated with a book authored by a mother and daughter duo to share a tradition they'd had in their house for years? Me neither. In fact, there's a lot we don't know about the meaning of Elf on the Shelf and how it became a household name.
In 2005, Carol Aebersold and her daughter, Chanda Bell, co-authored the book The Elf on the Shelf: A Christmas Tradition, which quickly grew legs of its own. Now the books are sold alongside an elf doll, and the two also produce a kit that can help you create various scenes for your adopted elf around your abode. A chair, booties and a swing are just a few of the props you can buy for your elf to make its magic come true in your home.
Lest you start to feel a little intimidated in the face of all the clever Elf on the Shelf ideas your friends or acquaintances are sharing on social media, Bell explains that the Elf on the Shelf started as a small, family holiday tradition in her own home when she was a child. In an interview with Romper, Bell explained, "My mom had an elf from childhood. From the second I can remember, my mom would tell us this was the elf from the North Pole."
Bell recalls she used to imagine what the North Pole might look like, and what the Elf was up to when he flew back to report to Santa every night. "It was the most magical think I could imagine," she says. In fact, the family elf was such a part of their yearly holiday that Bell was surprised to find out that the elf tradition her family had wasn't universal already. "When I was growing up I didn't realize other kids didn't have the elf in their homes!"
Bell was a middle school teacher for six years before taking time out to stay home and care for her kids. After a few years, she started working for her dad part time, which is when she saw the old Christmas Elf (literally sitting on a shelf) and had an idea. Her mom had been going through a tough time with an empty nest, and the idea to write a children's story was "something we could do together and to give my mom something else to think about."
Bell explains that she did think, "Maybe Santa will give us permission to share this story with the world," but little did they know that within a decade, the Elf on the Shelf would become a household tradition around the world, shared by celebrities like Gwen Stefani and Mark Wahlberg. In fact, it seems to be more uncommon to find families who have not adopted an elf and folded it into their holiday routine.
All the while, Bell's goal for the Elf remains the same. With writing The Elf on the Shelf: A Christmas Tradition, Bell and her mother hoped to remind families of the true values of the Christmas season: joy, hope, faith — and a little magic. They were also hoping to help parents and kids would interact in new ways, and it's safe to guess that there weren't too many kids looking for Elves participating in marshmallow snowball fights before the book was published!
But more than the international success, Bell says the stories she hears from families, especially those with kids with disabilities who particularly latch onto the magic of the Elf, is how she really values the success of Elf on the shelf and how it contributes to the magic of the season. "Moments like that, you realize how touching and how big this is."
Check out Romper's new video series, Romper's Doula Diaries:
Watch full episodes of Romper's Doula Diaries on Facebook Watch.