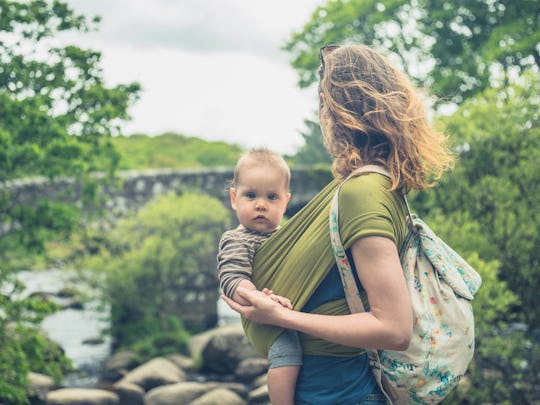 LoloStock/Fotolia
You Won't Believe The 9 Insults Every Scrunchy Mom Has Heard
You've probably heard of crunchy moms — moms who try to do everything the "natural way." And you may have heard of silky moms, too — moms who value convenience. I've found that I, like most moms, fall somewhere in the middle — or what's called "scrunchy" moms. Most of the time it is pretty awesome to be a scrunchy mom because, well, it's the best of both worlds. Until you encounter a die-hard crunchy or silky mom, of course. Then it seems like you can't win. There are definitely insults all scrunchy moms have heard, and they usually come from people on both sides of the crunchy versus silky aisle. Yes, it's about as pleasant as it sounds.
At different times in my parenting life, I have been on both sides of the so-called mommy wars. When I first became a mom, I was an organic vegetable-growing, herbal tea-drinking, hybrid car-driving, midwife-birthing, documentary-watching, co-sleeping, breastfeeding, babywearing, cloth-diapering, baby food-making, smoothie-drinking, health food-eating, crunchy mom. That is, of course, until I realized being a crunchy mom just wasn't for me. It was exhausting.
Then I became a science-loving, formula-feeding, sleep-training, disposable diaper-using, research-driven, let-my-kids-have-screen-time-and-cereal-for-dinner silky mom. I realized that I didn't perfectly fit in with that crowd either, though. I still did too many things that made silky moms roll their eyes like raising my kids vegetarian and practicing peaceful parenting.
You would think that having one foot in each camp would mean I would have more mom friends, but I found the exact opposite to be true. Honestly, I have received judgment and mom-shaming from crunchy and silky moms alike. In a perfect world, every parent would be free to raise their kids in a way that works best for their family. Unfortunately, that's just not the case. So, as a result, scrunchy moms can't seem to please anyone and end up hearing the following: