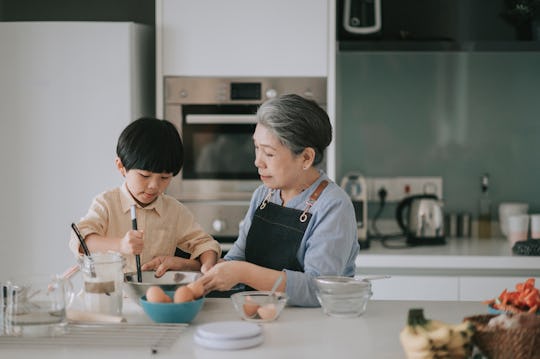 Chee Gin Tan, Getty Images
13 Things The Best Grandmas Do For New Big Siblings
The best is that they know not to take anything personally.
Having an infant for the first time is pretty scary stuff, and it's not uncommon for grandparents to come to stay for an extended period of time, offering advice (solicited or not) and helping out with everyday tasks like cooking and cleaning. After your second or third child is born, however, having grandparents or other helpers around seems more like a necessity than a comfort, and the best grandmothers do things for new big siblings to make them feel extra special and loved. Because while it's incredibly joyful, it can also be stressful and even a little sad to watch your "big" baby adjust to your newborn. You may even be worried you won't love your second child as much (you will) or that you'll ruin your older kids' life (you won't). Suffice to say, the best helpers will ease the transition for everyone.
Aside from helping out with the laundry (which somehow manages to quadruple with the arrival of each new family member), and holding the baby while you squeeze a nap in (or, more realistically, a shower), the best grandmas know that the bigger kids need just as much, if not more, attention than the baby. More than just buying the eldest an "I'm a big sister'' shirt (not to knock those, they're adorable), exceptional grandmas help their grandchildren navigate this huge life transition. Read on for the best things the best grandmas do for new big siblings that make everyone's lives (parents, too!) just a little bit easier.