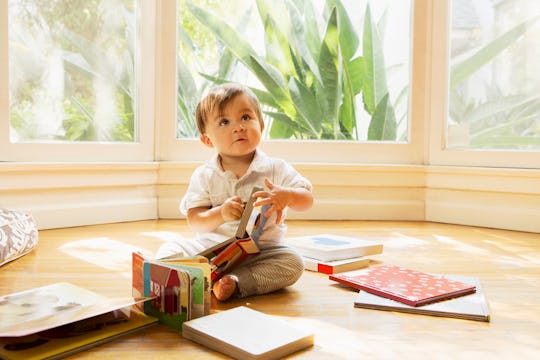 Lucy von Held/Tetra images/Getty Images
58 Perfect Literary Boys Names
Timeless classics to add to your list.
Naming a baby is fun, exciting, and often very difficult — especially if you and your partner aren't on the same page with favorite baby names. You may surprise yourself with where you ultimately pull inspiration for your baby's name. It could come from a family tree, a favorite TV show, or a book or author you love. These literary names for baby boys are for the bookworms who want a name with a story (literally) behind it.
Maybe for tradition or family reasons you're looking for a name that starts with a certain letter or you'd like to give your baby a gender-neutral name. The literary names on this list offer something for everyone, from timeless names like Oliver, Calvin or Gabriel to more modern options, unisex names or something nature-inspired like Ocean or Moby. Even if you're not a fan of the book or author the name calls back to, you still may some inspiration on this list, that covers everything from Dante to Shakespeare to The Fault In Our Stars, and then some.
We're certain that at least one of these literary baby names for your little budding literature enthusiast will earn a spot on your baby name list.
More literary boys names
Watson
Ishmael
Toby
Victor
Hugo
Laurence
Ulysses
Thor
George
Eliot
Morrison
Harry
Baldwin
Walker
Barnaby
Romeo
Edmund
Bell
Robin
Dorian
Samwise
Jay
Noah
Finnick
Homer
Ray
Winston
Having trouble picking a baby boy name? Open up your favorite book, or just pull one of the great ones from this list of literary boys names. Whatever you choose, your little baby is sure to live up to the greatness their name implies.
This article was originally published on