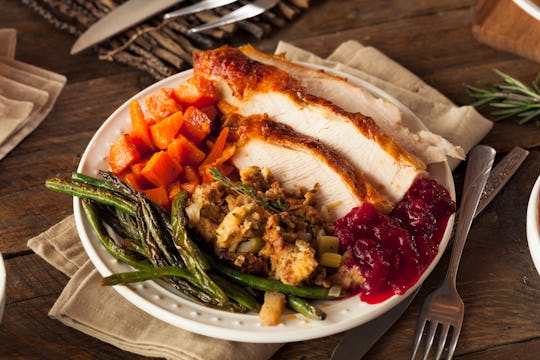 Brent Hofacker/Shutterstock
The Perfect Thanksgiving Plate To Induce Labor
I mean, it's not actually going to make your baby come out, but at least you can try, right?
If you've reached the full-term mark in your pregnancy, then there are three things you are most likely wondering. One, will you ever see your feet again? Two, can you really get any bigger? And three, what is the perfect Thanksgiving plate to induce labor?
OK, so that last one might not be entirely true, but now that I have you thinking about it, you probably wouldn't mind knowing, right? I mean, chances are likely you've heard about some of the more popular foods and drinks — hot sauce, licorice, pineapple, red raspberry leaf tea — that are rumored to increase your chances of going into labor. But I say it's time we put a holiday spin on the contraction-inducing recipes with visions of mashed potatoes, herb-y stuffing, spicy macaroni and cheese, and DIY pumpkin chai lattes. Because what can be wrong with finding reasons to go back for seconds? Forget "I'm eating for two" and instead go for "I'm trying to have a baby." No one will question your motives — promise.
Dig into these recipes for Thanksgiving day and check out the ones I've included for some post-Turkey Day inspiration. I mean, this list most likely won't result in the arrival of your little one, but at least you'll be in too much of a food coma to notice. Talk about a great Turkey Day nap.
Study Referenced:
Allegri, G., Costa, C. V., Ragazzi, E., Steinhart, H., & Laresio, L. (2003). Developments in Tryptophan and Serotonin Metabolism. New York, NY: Springer US.
This article was originally published on