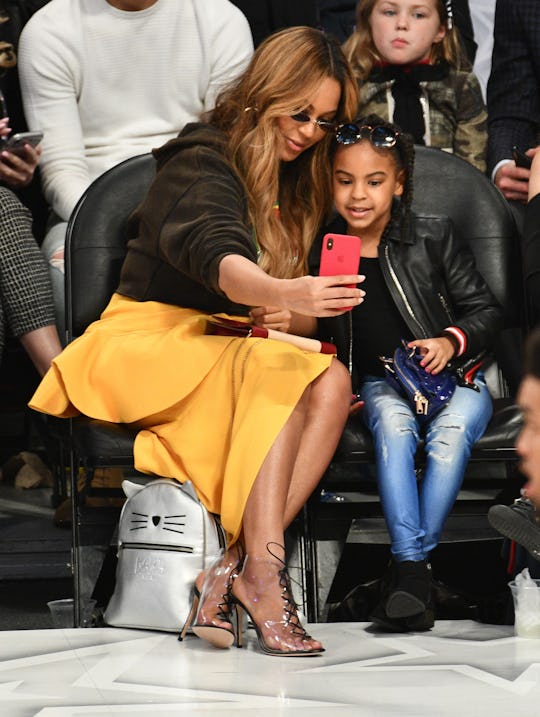 Allen Berezovsky/Getty Images Entertainment/Getty Images
You Need To See These 17 Adorable Pics Of Beyonce's Kids
From 'Baby Shark' to days at the beach...
From red carpet events and music video shoots to nail salon dates and beach outings, Beyoncé Carter's cutest photos of her kids is motherhood, Beyhive style.
The Black Is King artist is queen mother to twins, Sir and Rumi, 3, and Blue Ivy, 10, who has already proven to be a young mogul herself. In March, Blue made history when she became the second youngest artist ever to win a Grammy.
"I feel really, really just lucky that I can still do what I love, and now have a way bigger meaning. And that's to be her [Blue Ivy]," Beyoncé shared with Vogue U.K. in a December 2020 interview. She also made broke records when she became the artist with the most Grammys won. Carter took home a total of 28 awards on Grammys night.
Bey doesn't share pictures of her kids often, especially the twins, but when she does it's always a viral treat that the Beyhive enjoys!
Although there are no visible signs of new music brewing (because Bey is the type of artist who will silently drop a whole album and shut everything down), her clothing line, Ivy Park, thrives and empowers women of all body types. And when she is not breaking barriers and redefining culture as we speak, the mother of three has a common stressor that all moms can relate to, and that's balancing work and life.
"Making sure I am present for my kids — dropping Blue off at school, taking Rumi and Sir to their activities, making time for date nights with my husband, and being home in time to have dinner with my family — all while running a company can be challenging," she told ELLE in a Dec. 2019 interview.
And outside looking in, she does all of this flawlessly.