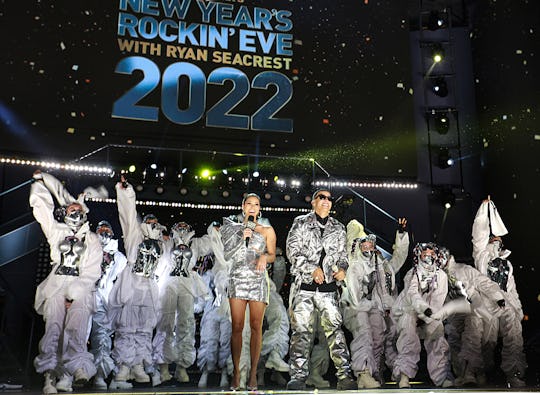 Gladys Vega/Getty Images Entertainment/Getty Images
All The New Year's Eve TV Specials To Watch To Ring In 2023
From Ryan Seacrest to Miley Cyrus!
What is New Year's Eve without watching the ball drop? From New York and Miami to Disneyland, aside from the festive TV episodes, the 2022 New Year's Eve shows bringing in the new year are always spectacular to watch, whether it's from our TVs or if you're lucky enough, in person!
Last year one of the most famous NYE specials, Dick Clark's New Year's Rockin' Eve, celebrated 50 years and the festivities continue at Cinderella castle. Down south, the country music capital of the nation will be lighting up their signature musical note to bring in 2023. And on South Beach, a signature girls' night with a pop star and music icon is also going to be a family affair. The CNN crew is also getting in on the action with a few sober, responsible changes this year.
Nonetheless, no matter where you watch the ball drop, prepare to look forward to live performances from your favorite artists, and all of the hilarious and viral New Year's Eve moments, without leaving the comfort of your home.
Below are at least five New Year's Eve specials airing on Dec. 31 you can tune in to as we prepare to go out with the old and in with the new!
Are you shopping this New Year's Eve? Check out which stores will be open from Target and Publix to Kohl's and Trader Joe's before tuning into all the fun specials airing this weekend. Happy New Year!