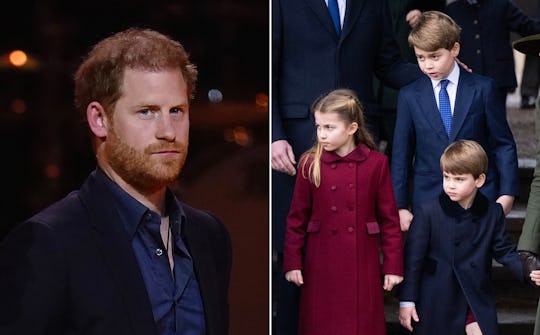 Aaron Chown/PA Images/Getty Images/ Samir Hussein/WireImage/Getty Images
Prince Harry Says He's Worried One Of Prince William's Kids Will End Up As "The Spare"
"At least one will end up like me, the spare."
Prince Harry continues to open up about his fractured relationship with the rest of the royal family since the release of his memoir Spare. His father King Charles, older brother Prince William, his stepmother Queen Consort Camilla, sister-in-law Kate Middleton, everyone has gotten a mention either in his memoir or in his many, many interviews. And his niece and nephews are the most recent members of the royal family to get a mention. Apparently Prince Harry is worried his brother's children will end up "like him," or in other words end up feeling like "the spare."
In an interview with The Telegraph, the Duke of Sussex expressed concern that one of his brother's three children with Kate Middleton might end up struggling with the same issues he has his entire life. "Though William and I have talked about it once or twice, and he has made it very clear to me that his kids are not my responsibility, I still feel a responsibility knowing that out of those three children, at least one will end up like me, the spare," Prince Harry told the British outlet. "And that hurts, that worries me."
While Prince Harry did not specify which one of his brother's three children he worried about, it seems likely he meant either 7-year-old Princess Charlotte or 4-year-old Prince Louis as 9-year-old Prince George is second in line to the throne.
Prince Harry did not mention whether or not he has the same concerns about his own two children with wife Meghan Markle, 3-year-old Archie and 1-year-old Lilibet. Mostly he's just been surprised to find they carry his "ginger gene." No big concerns about one of his children feeling as though they were brought into this world as a back-up, something he felt himself quite strongly as a child, he explains in Spare. Perhaps because he was so frequently referred to as the "spare," so much so that even his beloved late mother Princess Diana reportedly once said, "They will look after the heir and I will look after the spare."
As far as the Prince and Princess of Wales' children go, both parents seem to go to great lengths to ensure their children have as normal and as equitable an upbringing as possible. Both parents appear to have close relationships with all of their children, although Prince Harry does note that sometimes being made to feel like the spare comes from outside the family. "As I know full well, within my family, if it's not us ... it's going to be someone else," he told The Telegraph.
The dad of two admitted in a separate interview with People that he would like his own children to have a relationship with his family, which perhaps might happen some time down the road.