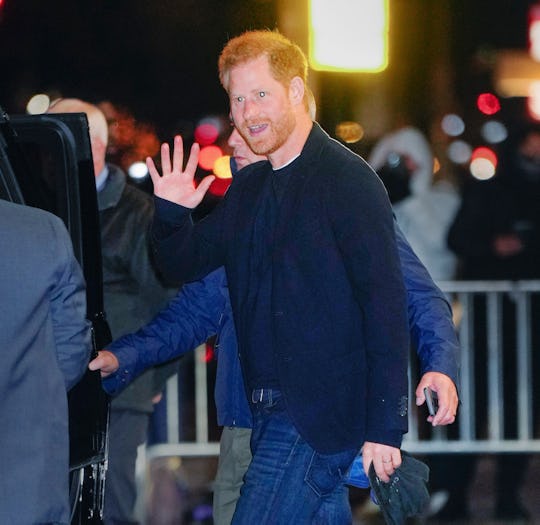 Gotham/GC Images/Getty Images
Prince Harry Would Like Archie & Lilibet To Have Royal Relationships
He wants them to be close to his family.
Prince Harry's memoir Spare was released on Tuesday, and royal watchers could be forgiven for assuming that the youngest son of King Charles and Princess Diana had no interest in continuing his relationship with the royal family. He writes about, among other things, his frustration with his father and brother, his lifelong struggle with his mother's death in 1997, and of course, his legendary resentment of the paparazzi who have dogged the royal family's every movement since forever. But it seems the father of two has not completely closed the door on his family. Especially when it comes to his 3-year-old son Archie and 1-year-old daughter Lilibet with wife Meghan Markle.
The Duke of Sussex spoke to People on Tuesday about his continuing hope for reconciliation with the royal family, despite tensions that are certain to get worse after the release of Spare. "I've said before that I've wanted a family, not an institution — so of course, I would love nothing more than for our children to have relationships with members of my family, and they do with some, which brings me great joy," Prince Harry told the news outlet. It's important to remember that Prince Harry's older brother Prince William is himself a father of three children — 9-year-old Prince George, 7-year-old Princess Charlotte, and 4-year-old Prince Louis — with wife Kate Middleton. Archie and Lilibet's cousins, who they presumably have not really spent any time with as they've been living in Montecito, California for the past two years.
Archie and Lilibet have spent time with at least one royal cousin; Princess Eugenie and Jack Brooksbank's 2-year-old son August, who visited the Sussex family in California in 2022. As for the rest of the family, King Charles has met both of his grandchildren and Queen Elizabeth met her little namesake Lilibet mere months before her death in September at the age of 96 years old. An event Prince Harry remembered with fondness, telling People, "My grandmother and I were very close, and we very much did have a special relationship. I miss her dearly, as well as her cheeky sense of humor and quick wit."
As the royal family prepares for the coronation of King Charles in May, it remains to be seen whether or not Prince Harry and his family will be there to celebrate the historic event. But for his part, the Duke of Sussex has said he'd be open to attending. Indeed, he told ITV's Tom Bradby that he'd like his father and brother "back" after all of their recent tension.
Time will tell, I suppose.