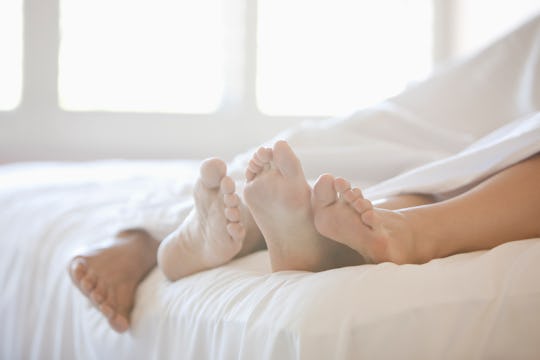 Assembly/Tetra images/Getty Images
25 Dirty Valentine's Day Jokes To Set The Mood
Because funny is freakin' sexy.
For being a holiday built on the basis of love and sex, Valentine's Day seems like such serious business. If you're happily coupled, you're probably preoccupied trying to pick out a present for your partner (and, ahem, hoping you get one in return) and making sure that everything is picture perfect. And if you're single as a pringle, you might be celebrating the holiday with your closest galentines, commiserating about the lack of potential partners out there. But where's the merriment and mirth that should be a part of a day that's all about appreciation and, you know, passion? If you need an ice breaker or some playful way to let your loved one know what's in store for later, these dirty Valentine's Day jokes will totally turn you on.
But are jokes supposed to be sexy? Shouldn't Valentine's Day jokes just be cheesy odes to love? Not at all. In fact, funny is sexy in so many ways. Making a loved one laugh is foreplay at its finest. So if you're looking to giggle with a gal pal (or send your sweetie a message), you can use these dirty Valentine's Day jokes as a way to show them what's to come.
Even though Valentine's Day might seem like it's all about sweet love songs and romantic gestures, let's get real: it's about the sex, sweetie. And if you're looking to get some action between the sheets, in the shower, (or heck, your laundry room), break out one of these dirty Valentine's Day jokes for some giggles — and hopefully some orgasms, too.
This article was originally published on