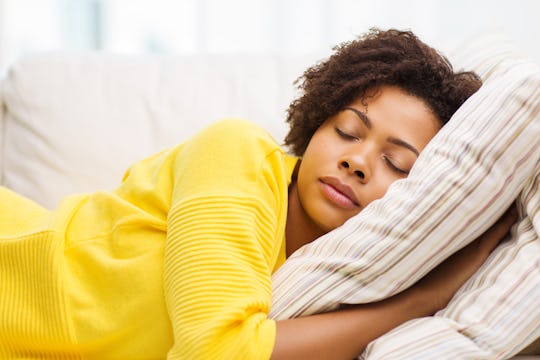 Fotolia
10 Nap Positions For Every Bad Day A Mom Could Have, Because Sleep Is Better Than Wine
Bad days are inevitable, especially when you're a mother. Now that you're responsible for another human being -- and acutely aware that so much is outside your control -- plans will be ruined and best efforts will go to waste and the worst of the worst will, probably, happen. While I realize it's become the cultural norm to suggest a wine at the end of a mom's particularly difficult day, I think the nap positions for every bad day a mom could have is much, much more helpful. Sure you could enjoy your glass of whatever and sit in complete silence, taking liberal sips and wondering how in the hell you just survived the day. Or, you could get some much needed, much-deserved sleep yourself, and put it all behind you.
On average, a new mother lives off just three-and-a-half hours of sleep a night, for the first four months of their baby's life. A reported 94 percent of new mothers said they would rather go to sleep than do anything else (and that includes sex, my friends). So, yeah, a new mom doesn't need a glass of wine at the end of the day, she needs some sweet, sweet sleep. I know that for the first few months (oh hell, years. Who am I kidding, right?) of motherhood, I chose sleep over any other extracurricular activity. A glass of merlot couldn't give me what a few hours of uninterrupted unconsciousness could.
So while it might not be "cool" or considered the "hip" part of mom culture, I think mothers need to start sleeping more and drinking less. I mean, yes, to each their own and you do what you need to do to relax and find neutral and deal with a particularly difficult day. However, if sleeping and rejuvenating your body and mind are high on the priority list, I suggest pairing your difficult days with a few clutch nap positions, and not a glass of wine. In fact, I've suggested the following nap positions for specific circumstances, rated how difficult the day is that would probably call for the sleep position being detailed, and a suggested time in which you should enjoy said sleep position. I'm like a sommelier but much, much better.