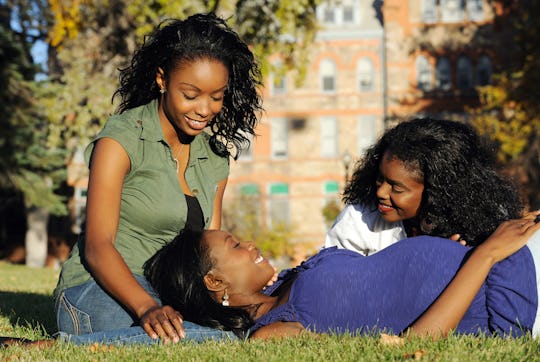 Fotolia
10 Pregnancy Moments That'll Make You Realize Your Female Friendships Are Your Lifeline
Sometimes there's nothing lonelier than being pregnant. Everyone's out drinking and having a good time, and you're busy feeling like a beached whale and trying not to vomit. Fear not, for you'll soon figure out that your village has your back. In fact, there are more than a few moments during pregnancy that prove female friendships are your lifeline.
I got pregnant in my 30s, so I was lucky in that I had a lot of friends who had already experience pregnancy, and were already deep in motherhood game. Throughout my pregnancy, I was supported by a tribe of amazing women including family members, co-workers, military spouses, friends from high school, and my pole dance squad. These women all stepped up to the plate to make sure I was supported.
My mom has always said that you can't expect your partner to fulfill all your emotional needs. My husband is great. He's reliable, funny, smart, and supportive and when I couldn't stop puking in the waiting room, he held me in his lap. In my third trimester, he brought me a chocolate milkshake every day. Still, there were certain things going on with my body and emotional state that he just couldn't understand. Enter my motley crew of female friends. That band of badass sisters saved me, and yours will too.