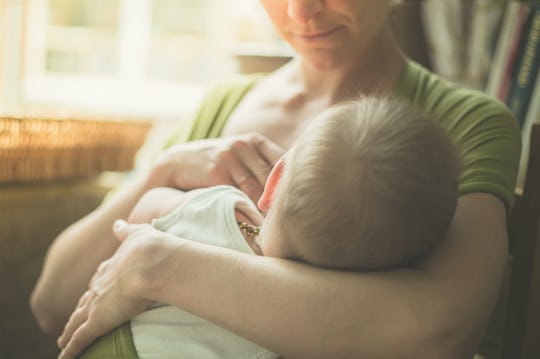 LoloStock/Fotolia
10 Things That Without A Doubt Are *Not* Spoiling Your Breastfed Baby
Just when I think we're past it, I hear it somewhere out in the world. A mother will go to breastfeed her baby, or talk about it, or ask a question about it, and some smug mofo will say, "You're going to spoil them." OMG. No! No, no, no, no, no, no no. Look, once more for the people in the back: you definitely aren't spoiling your breastfed baby, and certainly not by nursing them wherever, whenever, and in whatever way you see fit.
Women's bodies and how people choose to raise their kids are two things that way too many people seem to have an opinion on. Even people who are not in possession of a female body or identity or know the first thing about child-rearing. But, apparently, these people all suffer a terrible medical malady that makes it so that if they don't tell you their opinion they die. (LOL! JK! They're just jerks.)
So here's the thing with spoiling babies: you can't. The experts all agree on this undeniable fact. Why? Well, because babies lack both the capacity to learn anything from deprivation, and the wit to manipulate you into doing their bidding. They can only urgently and vaguely express their needs by crying and it's up to us to figure out what's going on. Honestly, I'm sure it's a huge hassle for them, too, and I bet your baby would prefer to just tell you what's up. Alas, neurological development is a harsh mistress who does things in her own time.
And so, with that in mind and because "alternative facts" seem to be all the rase these days, here are all the things that absolutely, in no way, spoil your breastfed baby: