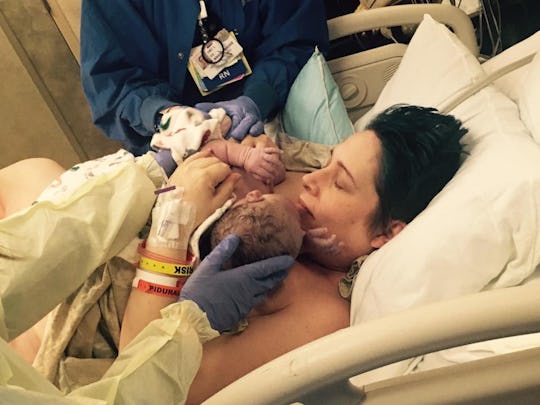 Courtesy of Steph Montgomery
10 Ways I Set Myself Up For Success During Labor & Delivery
My first childbirth didn't go as planned, but not for lack of trying on my part. I created a ridiculously detailed birth plan, outlining exactly how I wanted things to go. I mistakenly thought that that my body and baby would somehow get the memo, too, but after 18 hours of excruciating back labor, my desire for an un-medicated childbirth went straight out the window... along with my birth plan. Now, after having three babies, I've learned a lot about how to set yourself up for success during labor and delivery.
In my experience, the key to childbirth success is to set realistic goals and manage your expectations. Why? Well, because your baby doesn't care about your desire to give birth in a pool surrounded by candlelight or while squatting on a birthing stool. So while it's not wrong to plan and prepare for a specific type of birth you'd like to experience, keeping your mind open to alternatives and learning to be flexible is just as valuable. After all, birth is beautiful whether you labor in the woods or have a scheduled C-section.
I experienced disappointment the first time I gave birth, sure, but I learned from my hard-earned lessons. For example, the last time I gave birth I didn't write a birth plan, except to say that I only wanted my husband in the delivery room. I knew birth could be random, beautiful, messy, and terrifying — often simultaneously —so I hired the right OB-GYN, got my husband on board with my take-it-as-we-go birth plan, and communicated my needs. I also asked for an epidural right away.
All of my births were successful in that they ended with beautiful, healthy babies, but I think this last birth was my most successful in terms of how I felt, physically and emotionally, once it was all over. And I have no doubt that it was because I set myself up for success in the following ways: