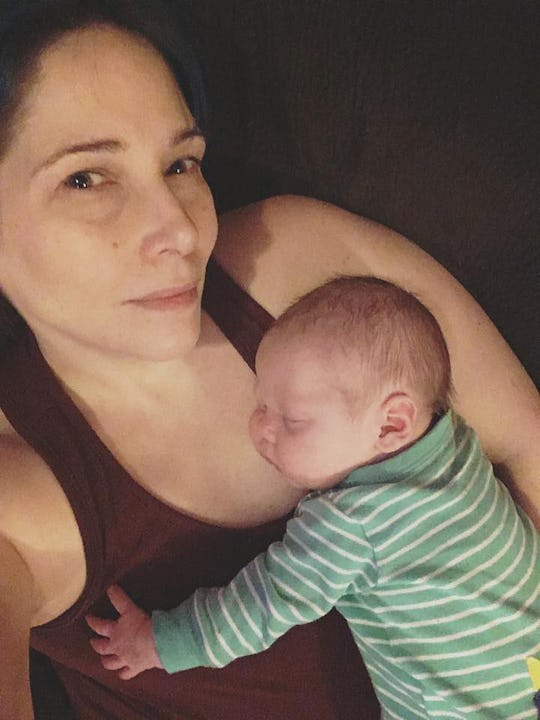 Courtesy of Steph Montgomery
Actually, The 4th Trimester Is The Absolute Best
For some people, pregnancy is a magical time full of happiness, wonder, and beauty. I am not one of those people. For me, the first trimester was full of uncontrollable nausea and vomiting, the second was marked by pelvic and back pain, and the third was spent on bedrest and frequently wetting my pants. While some pregnant people glow and feel energetic, I get acne and feel exhausted. And while I love my children, I certainly didn't love my pregnancies (at least, not until after delivery). In fact, there are so many reasons why the 4th trimester is the best.
The biggest reason for me, of course, is baby snuggles. I love the newborn period. Snuggling with the adorable tiny human you grew in your body, smelling their tiny soft head, and kissing their little baby toes? Yeah, it's enough to make even the most badass mom, like me, turn into a gooey mess. I am literally smiling so big while writing this and staring adoringly at my newborn. There must be something hormonal going on to make me to feel this good.
I'm not saying that the fourth trimester is without it's challenges. I've had my fair share of sleep deprivation, postpartum depression, breastfeeding difficulties, anxiety, pain, and stupid fights with my partner. However, once I got some help and figured some things out, the first three months with my babies have been pretty freaking amazing. However, when even the most exhausting of moments are chaotic or stressful, at least I can have a glass of freaking wine or a double shot of espresso without feeling guilty.