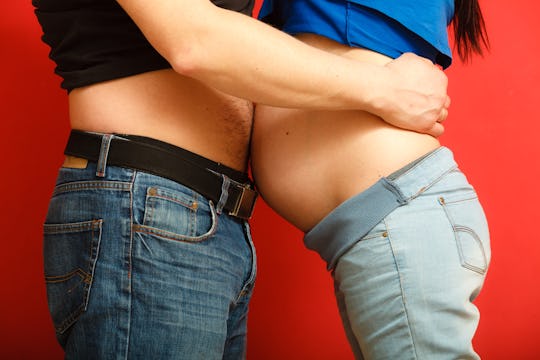 Fotolia
11 Things I Wish My Partner Knew About Pregnancy Sex, Without Me Having To Say It
Sex with my partner is awesome. When I told him that I was writing this article, I wanted to make it perfectly clear that I have no real complaints in that department. There are, however, things I wish my partner knew about pregnancy sex, without me having to actually say them out loud.
I love sex. I am not ashamed to admit it, and I'm constantly telling people off for suggesting that moms ought not to feel sexy or like sex. As I've grown older and found the right partner, it's way easier for me to explore and accept my sexuality and, consequently, sex is way better. Sex during my first two pregnancies can be best described as "meh." Between morning sickness, body image issues, aches, pains, and a less-than-desirable partner, I had pretty much written off pregnancy sex as a thing that just wasn't for me. Then I met my husband, got pregnant, and wow, I was wrong (something I rarely admit, by the way).
As great as we are together and as great as we are at communicating in the bedroom, there have been many moments when I wish I could tell him what's on my mind, without having to actually say the words out loud and risk ruining the mood or bursting into giggles. So, as a writer, I thought I would write them all down, instead. Honey, consider this a guidebook, and if other moms-to-be are reading, feel free to forward to your partner. You're welcome.