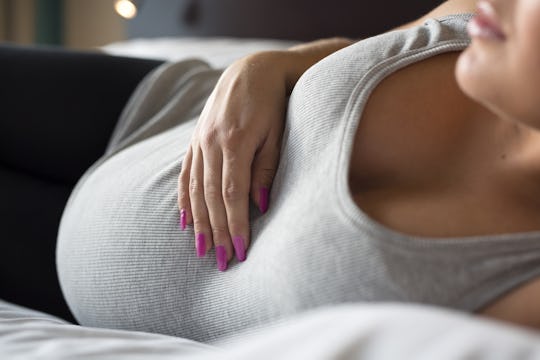 Fotolia
9 Total Mindf*ck Double Standards Society Has About Pregnant Vs. Postpartum Bodies
It's no secret that being a woman is confusing. You should be sexual, but not too sexy otherwise you're inappropriate. You should be attractive, but you shouldn't try too hard to be attractive. You should always be available but you shouldn't be too "easy" or associate yourself with too many people. Talk about confusing. However, I'd argue that nothing is more confusing for a woman than the mindf*ck double standards society has about pregnant vs. postpartum bodies. The messaging that a pregnant woman hears on a daily basis is so very different, and often completely contradictory, to the messaging a new, postpartum mother hears the moment her baby is born. No wonder so many new mothers feel lost and alone and confused; what they've been told when they were pregnant, no longer applies.
I remember the soothing, calm, supportive and usually body positive messaging I received when I was pregnant. People constantly told me my weight gain was "beautiful" and my body was "incredible." I was told to take it easy and rest and that others would help me; I wasn't on my own. I felt like I didn't have to worry or really focus on anything other than myself, my body, and my pregnancy. It was glorious. I twas reassuring. It was also, sadly, fleeting. The moment my son was born, society changed its tune. I was told to hate my body and hide the fact that I was ever pregnant by losing weight and doing what I could to get rid of stretch marks. I had to get back to my "pre-baby body" as quickly as possible. I had to do everything, all at once, on little-to-no-sleep and I had to instinctively know what to do as a new mom, because if I didn't I wasn't a "good mother" at all. It was all so confusing and overwhelming and I was left wondering what happened? What had changed? Why was the birth of my son the catalyst for a completely different conversation? Why did society seem to love pregnant bodies, but dislike postpartum bodies?
I'm sure sexism, misogyny and a slew of other reasons are to blame. I'm sure unrealistic beauty standards and gender stereotypes play a major role. I'm sure it will be a while before real, systemic change occurs and women are respected, supported and trusted in all areas and phases of their lives; not just when they're pregnant. Until then, however, I think it's important to look at the two conflicting messages a woman hears when she's pregnant and when she's postpartum. After all, you can't fix what you don't know is broken.