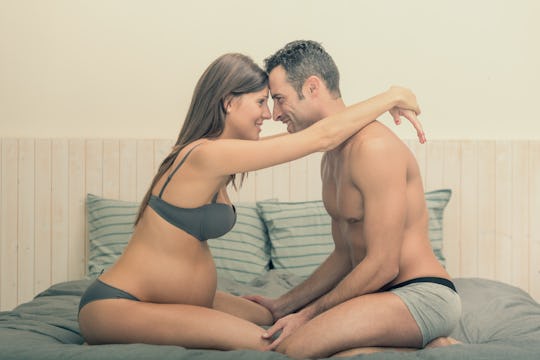 Fotolia
12 Struggles Every Pregnant Woman Understands When Having Pregnancy Sex
If I'm being honest, sex isn't a difficult thing. If it's consensual and safe and the people (or persons) involved are being respected, the general concept isn't hard to comprehend or put into practice. That is, of course, unless you're pregnant. I didn't realize how difficult it would be to achieve an orgasm while I was simultaneously growing a human being inside my body, so the struggles every pregnant woman understands when having pregnancy sex are struggles I dealt with on a regular, mind-numbingly frustrating basis. The things we do to continue the human race, right ladies?
Unless you have a high-risk pregnancy or another complication, sex when you're pregnant is safe. In fact, it can be fun and ridiculously satisfying (for example, I had some of the most intense orgasms I have ever had in my entire life while I was pregnant). However, as you near your due date and you get larger and larger, sex can also be awkward. And difficult. And uncomfortable. And strange. And a slew of other not-so-fun things that can make an aversion to sex not only normal, but just smart thinking. Honestly, who wants to deal with all of those struggles when you're also dealing with insomnia, nausea (maybe), strange cravings, false labor, constant kicks and punches from the tiny human inside you and a bunch of other pregnancy side effects? The answer: no one.
So, if you're getting busy while gestating, and you're experiencing the following struggles, know that you're not alone. All of us pregnant women have been there, and I can tell you that pregnancy sex is worth the frustration. I can also tell you, that it isn't. Honestly, it's up to you, so if you forgo sexy time in favor of a comfortable couch and Netflix, I don't blame you (and no one else should, either).