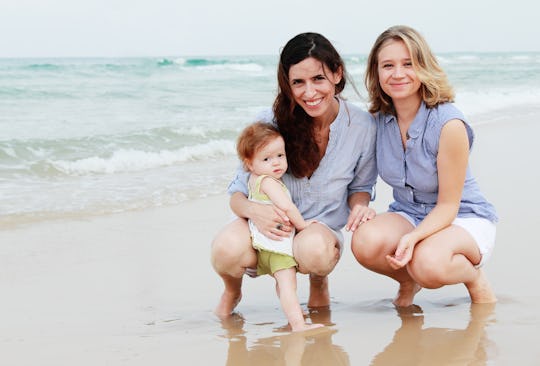 Fotolia
13 Things Every New Mom Thinks About Her Parenting Partner, But Doesn't Say Out Loud
I'm confident (not to mention, lucky) in saying that my parenting partner and I have a pretty great relationship. While we're not married, we're fully committed and equal partners in parenting and life and we're constantly communicating to make sure that our relationship is the best it can be for ourselves, and our child. However, and obviously, we're far from perfect. I mess up and my partner messes up and we mess up, together. I've definitely thought the things every new mom thinks about her parenting partner, but doesn't say out loud, because it's simply easier to have some internal, often screaming dialogue in my head instead of sit down and discuss any fears or concerns, with my partner.
When your relationship is tested by the choice to become parents (and make no mistakes, it is somewhat of a test) it can be difficult to give your partner the time, consideration and honesty that they deserve. I know that, for me personally, I have experienced a few (read: many) moments when I simply decided to remain silent about my feelings, rather than talk to my partner, because I'm too exhausted to entertain a conversation for an extended period of time. I've also been so tired and overwhelmed and frustrated, that I've suspended rationality in favor of unmitigated rage. Because I know that the "problems" I have with my partner are unfounded (I mean, really. He doesn't absolutely have to wear that Seahawks jersey to prove that he loves me.) I will keep them to myself until I've come to my senses.
Some of these thoughts are hilarious, while others are unfair. Some are simply the bi-product of zero-to-absolutely no sleep, while others are because I'm failing to communicate the way my partner and I usually do. Either way, having a baby and raising said baby with another human being is hard, so whatever it is you're thinking about your partner (and as long as you're not crossing into Gone Girl territory) it's probably normal and, usually, a simple convo will clear everything up.