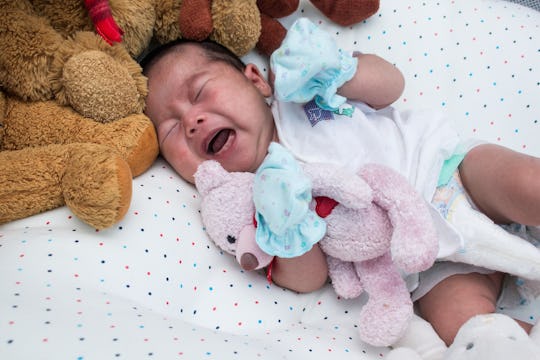 Fotolia
13 Things Moms Think When Baby Won't Stop Crying
Before I became a mom I was a nanny, so the sound of crying babies was nothing new. Still, I wasn't prepared for the emotional impact of your own child's continued crying. When your job is to care for an infant you can (kind of) be emotionally detached. I cared that the little baby in my charge was sad, but the sound of their distress didn't rip my heart out. Hearing your baby cry is a different story, and there are a bunch of things that go through every mom's mind when she can't get her baby to stop crying.
The scenarios that run through your mind will make you feel every emotion imaginable, from irritation to sadness to panic to absolutely everything in between. When I had my own child to care for I quickly realize that when he was sad, I was sad. So, when he was inconsolable, I suddenly forgot all my tips and tricks that had worked so perfectly with other babies. In a way, I was inconsolable until I could soothe my baby. Sometimes the best thing to do when your baby is in a crying fit is to pass the baby on to someone else and take a break. Babies can feel your distress and it doesn't help them to calm down, at all.
Believe me, if you have felt any of these things while your baby is crying, you are not alone. This mom thing isn't for the faint of heart, so whatever you're feeling when your babe is upset is valid and understandable.