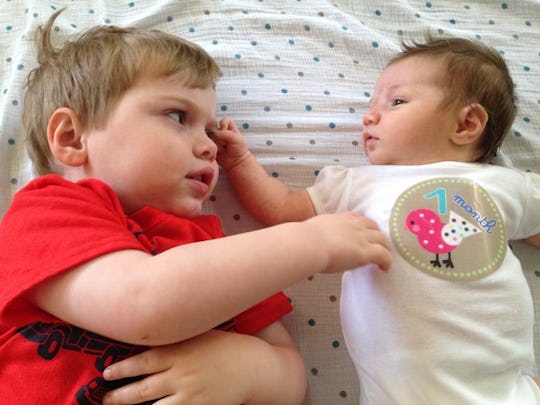 Photo courtesy of Jamie Kenney
15 Moms Share How Their Kid Reacted When They Found Out They Were Going To Have A Sibling
In general, a first pregnancy tends to be the most exciting. It makes sense, right? It's novel! It's unpredictable! But subsequent pregnancies give you the opportunity to share the happy news with your older child or children. What could be more wonderful than sharing that you'll be having another beloved child with someone you love more than anyone in the world? I asked moms to share how their kid reacted when they found out they were going to have a sibling, because, well, let's just say different kids have different reactions.
My son was young when I became pregnant with my second — just 2 — so I was fully prepared for him to not really understand the big news. What I did not expect was for him to look at me, dead-eyed, and reply: "No." No follow-up to that. Just a very clear, very deadpan "no."
I tried to explain more clearly, telling him that a baby was in mommy's belly, but he wasn't interested. All he could say was "no." I even tried to convince him that this was an exciting development, and promised him that when it was warm and sunny again he would have a brother or sister to play with. And that's when his cold stare broke. He scowled in annoyance and gave me a frustrated wave of his hand. "No! No sister, no brother!"
And that was that. We were not allowed to discuss the baby. Like... ever. To this day I consider it a miracle that my son ended up liking his sister from day one.
But again, no two kids are alike and how a soon-to-be older sibling responds to the news will be as varied as kids themselves. So with that in mind, here's how other children responded to the news that they would be joined by a sibling: