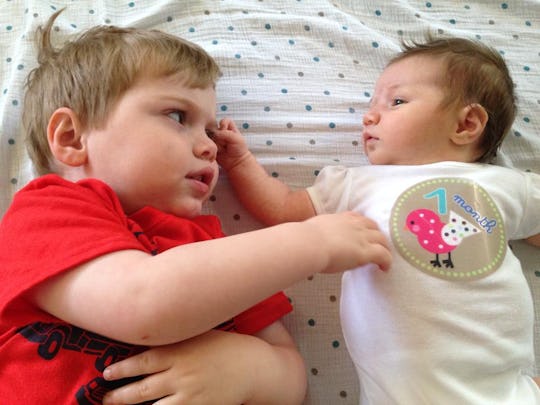 Photo courtesy of Jamie Kenney
8 Signs You Care *Way Too Much* About Your Kids' Age Gap
Unless you're a "one and done" kinda gal, your baby will hit a certain age and you'll start to contemplate child number two... or three, or four. Some moms go with their gut and don't give it much thought, but others pause. They want a "good" age gap and, hey, I get it! I love my kids almost three-year gap! But as someone with siblings three, seven, and nine years younger, I can tell you there's no one way to do it, so I don't think you should care too much about your kids' age gap.
Certainly there are generalities. Kids with, say, a nine year age gap probably won't have the same relationship as kids with a three year age gap. (I tried playing blocks with my baby sister when I was 11, and it was more than a little dull.) But that doesn't mean that different age gaps (to say nothing of different kids, with different personalities, in any number of different situations) aren't going to yield a variety of wonderful relationships you're going to love watching your beloved littles enjoy. Ultimately, "the right time" to have a baby has to do with your readiness for another child, not how your children might relate to one another based on their ages.
So, how do you know you're making too big a deal about the whole age gap thing? Well, I'll tell you...