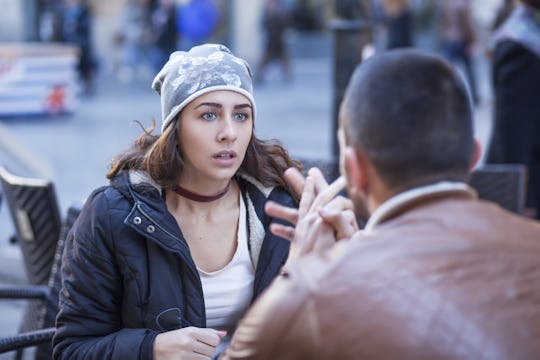 nikodash/Fotolia
15 Single Moms Share The Lowkey Creepy Things Their Dates Have *Actually* Said To Them 
Dating as a single mom is not for the faint of heart. On one hand, people judge the hell out of you for dating in the first place. But on the other hand? Well, let's just say my misadventures in dating as a single mom could probably fill a book, and it would definitely be more of a comedy or horror novel than a romance. Most of the single moms I know have had at least one dating experience that makes them shudder, and can share some pretty creepy things their dates have actually said to them.
I'm sad to say that most of the people I dated as a single parent turned out to be major creeps. Sometimes, I figured it out before our date. I mean, there were so many married men, you guys. So. Many. Other times, however, I wasn't so lucky. Men made comments about my body, because apparently every woman wants to hear that she doesn't look like she has had two kids. They made comments about my kids, which wouldn't have been creepy, except I realized that they had stalked me on social media and were commenting about photos I had posted. Then there were the dudes who offered to marry me and become my kids' new dad... on the first date. No thanks. I honestly don't even want to talk about the guy who told me he wanted to tie me up and watch his wife "pleasure me." I was not interested. Not in his proposal and, after that encounter, dating in general.
Fortunately for me, the last date I went on as a single mom was with the man I now call my husband, so my experiences as a dating single mom are over. I feel lucky now that I no longer have to hear dates say lowkey creepy things, like the following things my single mom friends have heard. I have to warn you, some of these are seriously gross. Shudders.