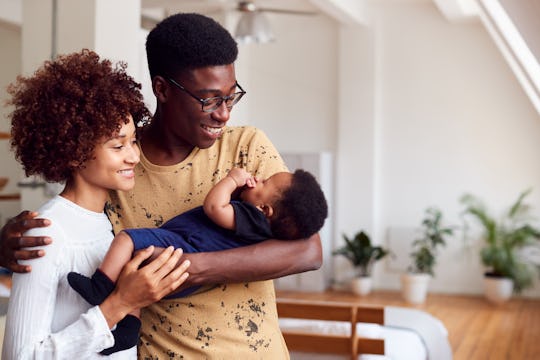 Shutterstock
Announce Your Baby's Arrival With These 17 Super Sweet Instagram Captions
The birth of a baby is an occasion for joy, a few tears, hearty congratulations, lots of photos... and an immediate announcement on social media for your 500 followers. But it's important to use just the right Instagram caption for your baby's arrival: one that shows off your personality while still getting the information out there.
Naturally, the proud parents want their family and friends to know the vital information: birth date and time; the baby's weight and length; the full name (so everyone can say either, "How beautiful!" or "They went with that?!"). After that, it's anyone's choice as to how best to make the announcement. You can go as simple as saying, "Introducing... " or make it a little more elaborate. There are sweet poems to choose from, such as "Twinkle, twinkle, little star/Do you know how loved you are?" Or try a quote that sums up the occasion, like Don Herold's "Babies are such a nice way to start people."
Here are some Insta-perfect captions for your new arrival: some simple, some clever, some that will bring out all the feels. Pick the one that suits your family's personality, add it to your feed (maybe with a hashtag like #Blessed or #NewBaby), then relax and enjoy the beginning of your new identity as this little person's parents.