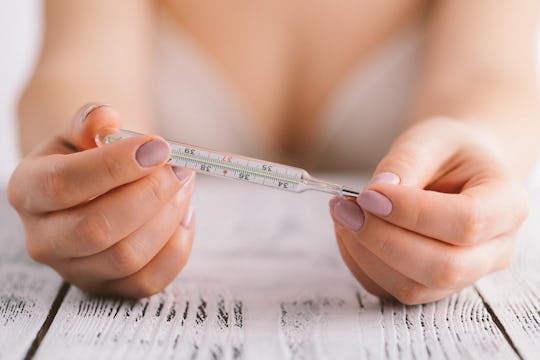 Andrey Cherkasov/Fotolia
21 People Share What It *Actually* Feels Like To Ovulate
When I decided to try to conceive my first baby, I wanted to do everything I could to improve my odds. At the advice of my nurse practitioner, I stopped taking birth control and started "tracking my cycle," which involved figuring out when I was ovulating. The problem? I'd been on some form of hormonal birth control for over a decade. I worried I wouldn't know when I was actually ovulating. Thankfully, I learned what it actually feels like to ovulate, so not knowing was never, ever, a problem.
No one really talks about it, but ovulation hurts, you guys. For me, it hurts a lot. It starts like a dull ache — like I have done 100 bicycle crunches on just one side — and ends with a sharp pain, like someone has stabbed me in my lower abs on one side. The silver lining, though? There was no mistaking when it was happening, which made timing conception sex easier than I thought it would be. And it turns out that ovulation makes me super horny, too. Score.
I asked around and learned that ovulation affects different people in different ways. Some people with ovaries have no idea they're ovulating, some feel serious pain, and some feel like sex deities. I had no idea. I think this might be yet another aspect of reproductive health that women and other people with ovaries just don't talk about. Unfortunately, and just like menstrual pain and childbirth, it's seen as taboo.
Also since there's such a large spectrum of discomfort during ovulation — from no pain at all to "would someone please rip out my ovary to make it stop" — you sort of feel like it might just be you, or that no one will believe you if you tell them, or worse, will minimize your pain. Well, friends, I believe you. Whether you feel like dying when you ovulate, or feel nothing at all, you totally aren't alone. So with that in mind, read on for some real talk about what ovulation is actually like. You might just be surprised.