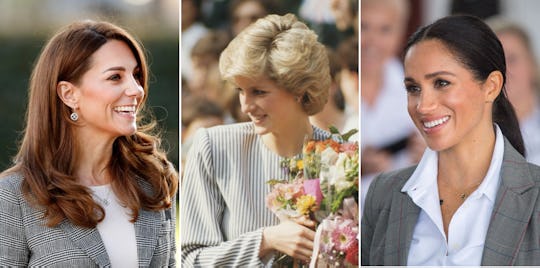 Max Mumby/Indigo/Getty Images Entertainment/Getty Images/ Princess Diana Archive/Hulton Royals Collection/Getty Images/ Pool/Getty Images Entertainment/Getty Images
21 Heartwarming Times Meghan Markle & Kate Middleton Paid Tribute To Princess Diana
Between the sparkly jewelry they wear everyday and subtly sweet nods nestled in their gardens, Meghan Markle and Kate Middleton have paid tribute to Princess Diana many, many times over the years. Indeed, the wives of Prince William and Prince Harry often honor their late mother-in-law's memory in beautiful, meaningful ways, all while using their own royal platforms to carry on her iconic legacy.
Since joining the royal family, Markle and Middleton have both made several touching tributes to their beloved mother-in-law, who was often referred to as the "people's princess," and continue to do so. Though neither had the opportunity to meet Princess Diana — who tragically died in a car accident in Paris in 1997 — it's clear Prince Harry and Prince William's mother is never far from their thoughts and is still very much present in their lives.
Whether it's through their fashion choices, their stunning jewelry and sparkly accessories, their children's names, to the types of flowers they choose to surround themselves with, the Duchess of Sussex and the Duchess of Cambridge make sure Princess Diana's legacy and memory will always be remembered. And here's a look back at 21 touching times they did just that.