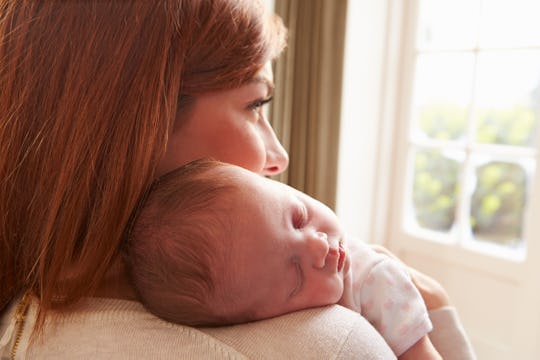 Monkey Business/Fotolia
4 Ways You Are Torturing Yourself As A New Mom, & Why You Don't Have To Anymore
As a new mom, it wasn't the punishing sleep schedule that was the hardest for me to get used to. It wasn't navigating the new collaborative effort of parenting with a partner. It wasn't even getting my head around the fact that, ever few hours for months on end, I would let a robot squeeze juice from my boobs that I would then feed to a human who come out of my vagina. (That's still incomprehensible, to be honest.) All those things carried their own challenges, sure, but the hardest thing about being a new mom was the nearly unbearable weight of worry that was suddenly pressing on me at all times.
I certainly knew that worrying constantly was part of the game when I signed on for parenthood. Moms worry, right? It's just what they do. Everyone knows that. I figured I would be an especially chill mom (because duh, of course I was annoying enough to assume I'd be cooler than most other people who did the same job I was about to start doing), but even then, I figured I would worry some. It would be totally manageable, though. Because of my chill.
I don't need to tell you that I was wrong, but I was wrong. All new parents are wrong. The first go at parenting, as far as I can tell and now that I'm five years into it, is mostly about making a lot of decisions and choices and then letting some time go by and then realizing that most of those choices were either wrong or didn't ultimately matter. Of course, I'm still on my first attempt at parenting, so I'm sure I'll realize I was wrong about that at some point, too.
Anyway, as a brand new mother I worried. About everything. It was just south of the kind of crippling anxiety that completely f*cks some new moms' first months, and even years, of parenthood, all but robbing them wholly of all the joy that also comes during that time. I was lucky, and it was never that severe for me. It was just your ordinary, run-of-the-mill annoying sense of doom that would occasionally make me shoot awake in the middle of the night, but was more often just a dull pulling at the back of my mind. What if something bad happened? What if something good didn't happen? What if I didn't know enough? What if I wasn't doing enough? You know the story.
The good news? Well, a lot of sh*t I cared so much about when my kid was fresh on this earth is now barely a concern, if I even think about it at all. So with that in mind, here are some of the ways you're probably torturing yourself as a brand new mother, and why you really, really don't need to: