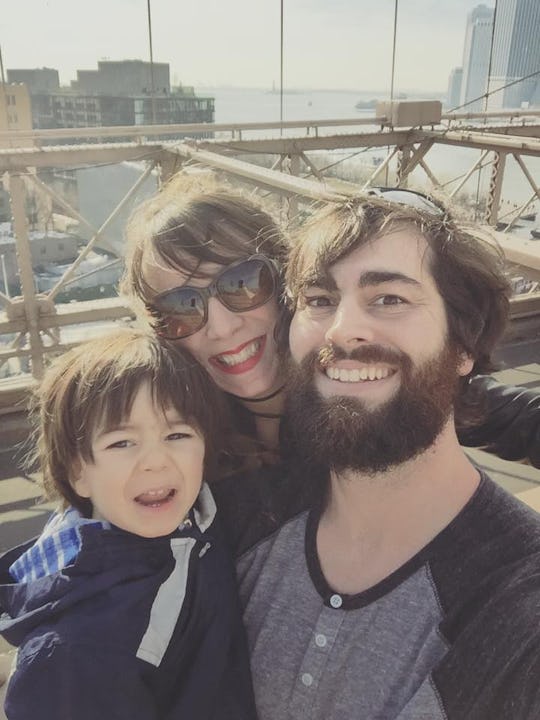 Courtesy of Danielle Campoamor
Fights Couples Have When They're Family Planning
When I found out I was pregnant with my son I felt one feeling above all else: surprise. He was in no way planned, so my partner and I had a few very important, very serious discussions after that pregnancy test proved positive. When we realized and decided we wanted to be parents, that was that. For all intents and purposes, the choice was easy. I cannot, however, say the same now. In fact, we've been through the fights every couple has when they're not sure they want more kids because, well, we're just not sure.
Honestly, we've gone back and forth more than a few times. Initially, I was positive I would go through pregnancy at least one more time, because I wanted my son to grow up with a sibling the way his father and I did. My partner and I both have brothers and while they can (and do) drive us crazy the way only siblings can, we love them and we're so grateful that we had them throughout our respective childhoods. However, after a difficult and high-risk pregnancy, an intense labor that ended with my son and a stillborn twin, postpartum depression, and a year and a half of miscarriages, I'm no longer sure. I want to give my son a sibling, but I also don't want to put my body through the physical trauma of another pregnancy, labor, and delivery. I'm stuck at an impasse, unsure as to how I should proceed for myself, my partner, my son, and our collective family.
In fact, not too long ago I found myself at a fertility clinic and, even then, I can't say I was convinced that having another baby was the best idea. How would my career change with not one, but two children to care for? Would I be able to love another child the way I love my son? How would another newborn affect my romantic relationship with my partner? Could my body physically handle another pregnancy and, more so, could my mental state handle it, too?
All of this is to say that my partner and I have discussed our future more in the last six months than we ever have before, and that includes when we found out I was pregnant with our son. These conversations are rarely easy, always complicated and multi-faceted, and usually end with tempers flaring. Still, they're vital, and conversations I'm glad I can have with someone who is not only my partner, but my best friend.